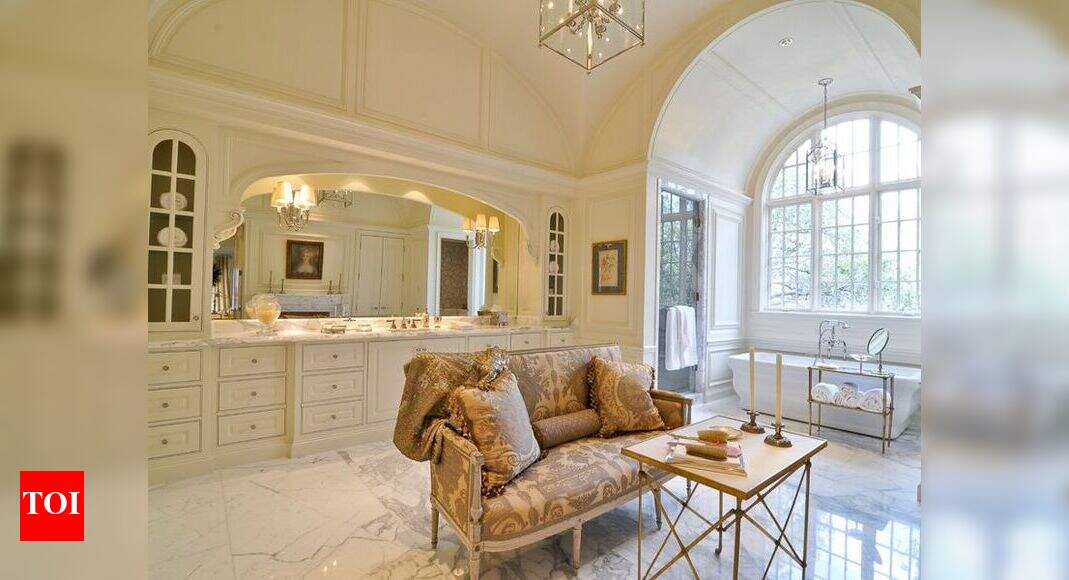 10 stunning bathrooms that will steal your heart!
When it comes to bathrooms, most design enthusiasts agree that the bigger the better. A lavish and spacious bathroom offers the luxury of creating the perfect private retreat to relax and unwind in every day. With the right lighting, the right materials and the right accessories, a bathroom can be transformed into a space fit for royalty. From enchanting bathrooms to opulent marble havens, here are some gorgeous sprawling bathrooms that will tickle your heart.
Photo: Deepak Aggarwal Photography

This bathroom leaves enough space for circulation which further reinforces the feeling of space evoked by the pistachio green and white decor.
The shower area, tub, and vanity top are spaced out, with room for movement and seating in between. Elements like the chandelier above the tub, the framed oval mirrors and the classic tufted ottoman bring elegance and opulence to the space.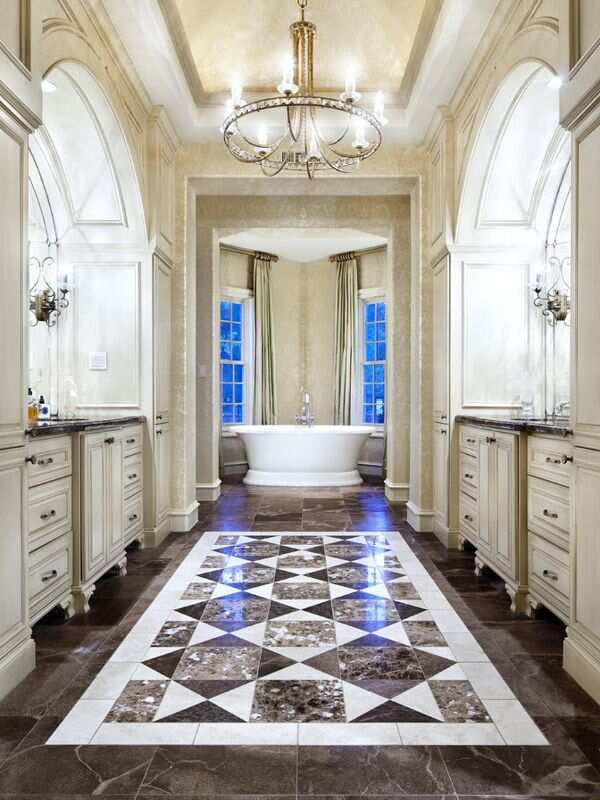 Photo: JAUREGUI Architecture Interiors Construction
The symmetrical arrangement of the vanity areas frames the focal point, which is the tub. Architectural elements like arches and wall moldings amplify the feeling of grandeur.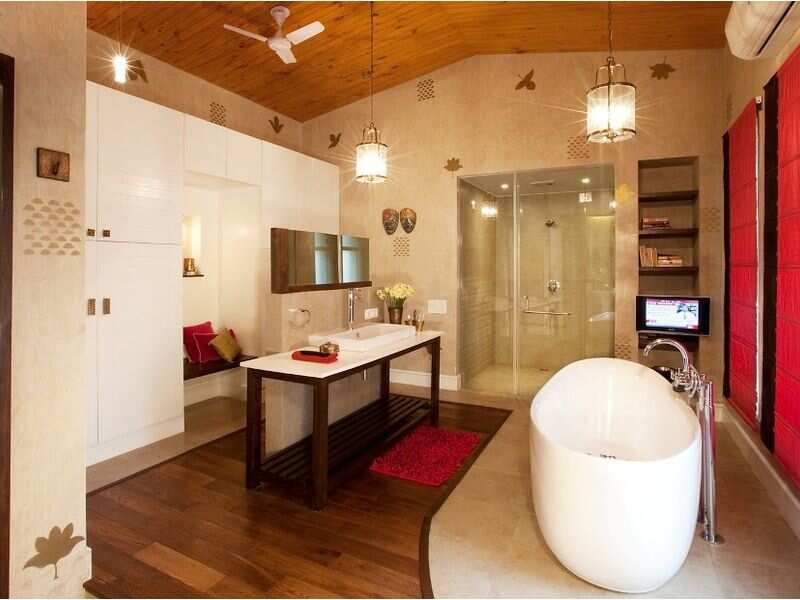 Photo: Kumar Moorthy & Associates
More space in the bathroom means more room for fun features like LCD screens. This spacious and well-lit bathroom from Kumar Moorthy & Associates contains many accessories. The main part of the bathroom is completed by a storage space and a recessed seating area. Partitions are used to separate wet areas like the shower stall and sinks to ensure functionality and ease of maintenance.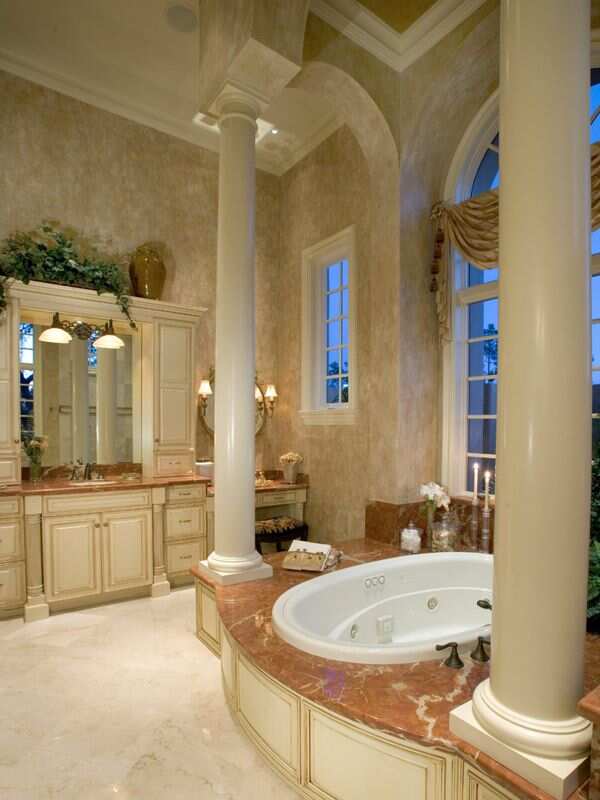 Photo: Sater Design Collection, Inc.
High ceilings are a great asset in large bathrooms. Stone finishes, drop-in tub and large vanity bring an air of old world charm to this bathroom from Sater Design Collection, Inc. A pair of columns draw the eye upward, accentuating the volume of the space. . So happy !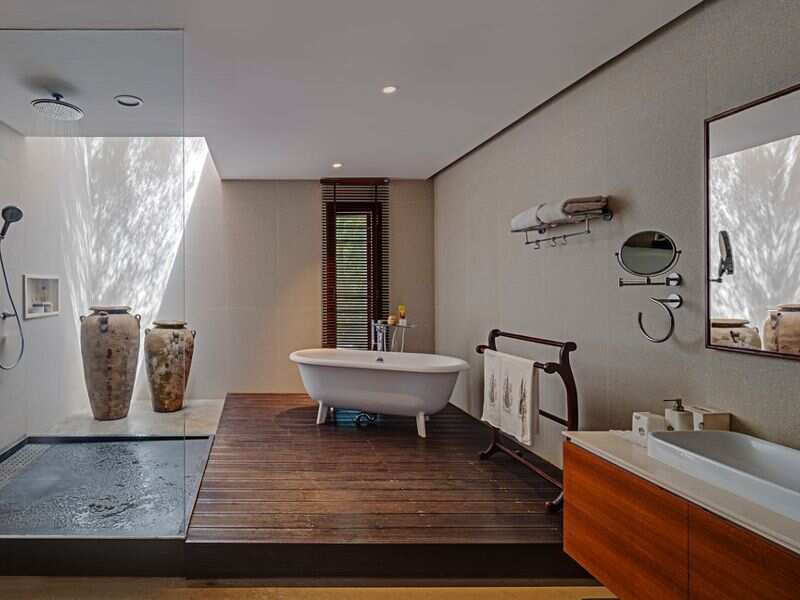 Photo: Khosla associates
Khosla Associates creates a tranquil sanctuary through the subtle use of textures and lighting. Muted walls and ceiling are paired with rich wood textures for contrast. The skylight and louvered window let in natural light without compromising on privacy.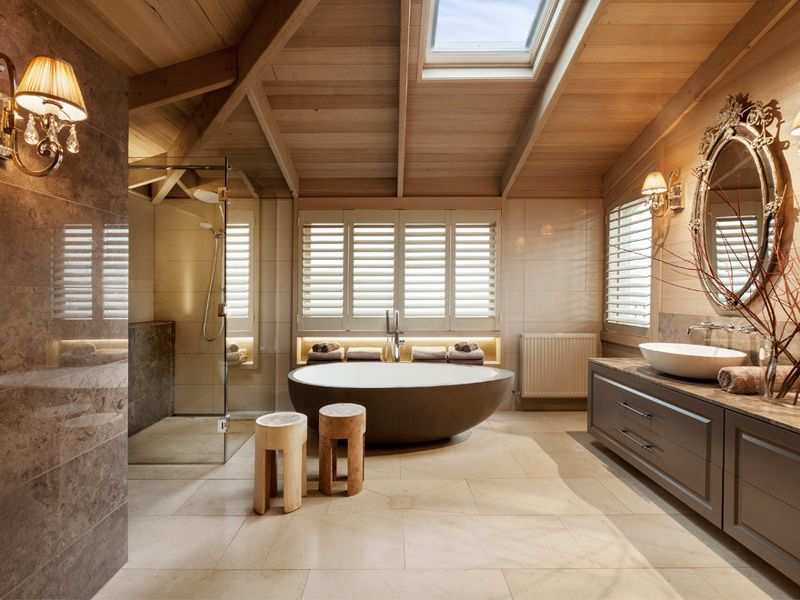 Photo: Patrick Meneguzzi Interiors
Even large bathrooms can benefit from a minimalist approach. This bathroom by Patrick Meneguzzi Interiors features subdued neutral hues and natural lighting. Lights with organic shapes, which the human mind associates with nature, like the bathtub here, can enhance visual appeal. The use of minimal embellishments on the mirror and fixtures evokes an aura of understated elegance.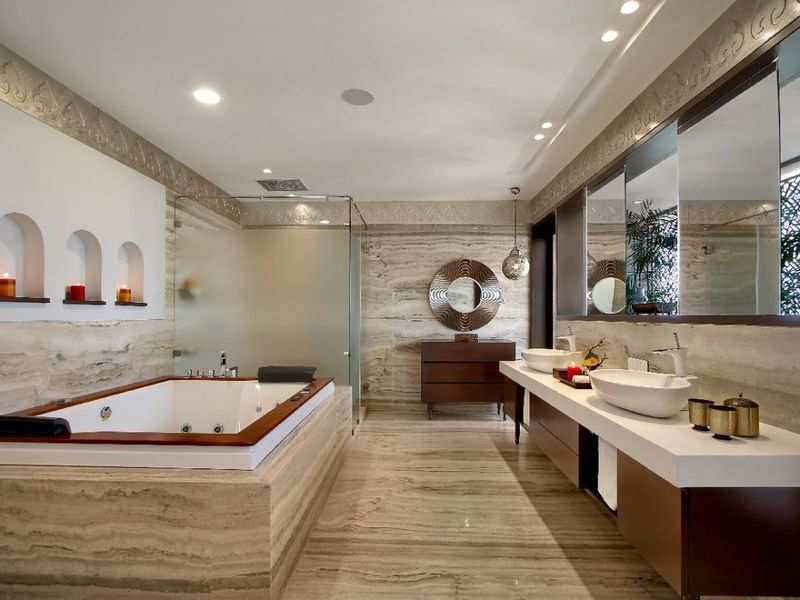 Photo: Dipen Gada and associates
Soft lighting and polished, shiny surfaces come together in this spacious bathroom from Dipen Gada and Associates. The wealth of space has been used to provide a large tub as well as substantial counter space with dual sinks. The wall niches offer the possibility of creating a beautiful spa atmosphere for long bathing sessions.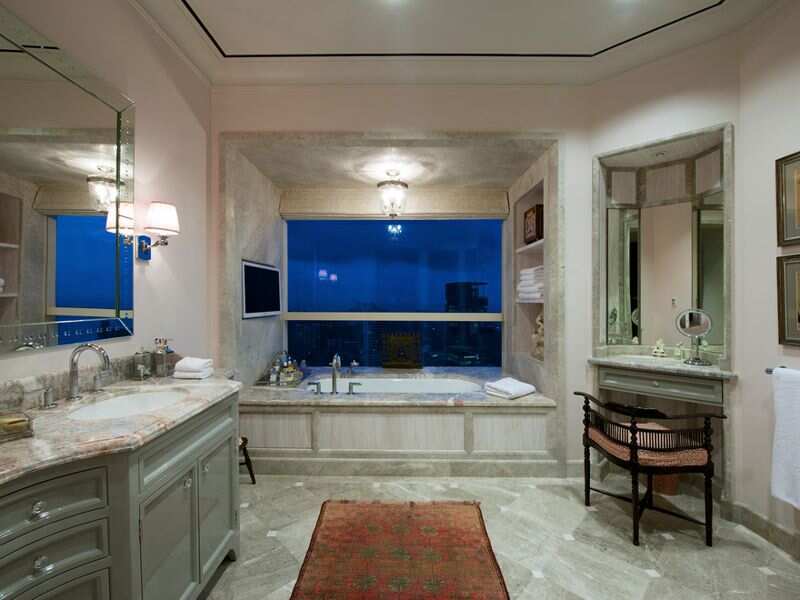 Photo: Architecture BRIO
An advantage of large bathrooms is the ability to go beyond the functional elements and add upholstery and accessories. Paintings, accent chair and rug add style and comfort to this Architecture Brio bathroom. The bath is placed through a large window which opens onto a view of the city skyline.
Photo: CA Nelson Architecture Group, LLC
Armed with a full-fledged vanity, plush sofa, and reading table, this luxurious bathroom from CA Nelson Architecture Group, LLC has everything you need so you can spend hours comfortably isolated in complete privacy. Casement windows let in plenty of natural light while vaulted ceilings intensify the feeling of space.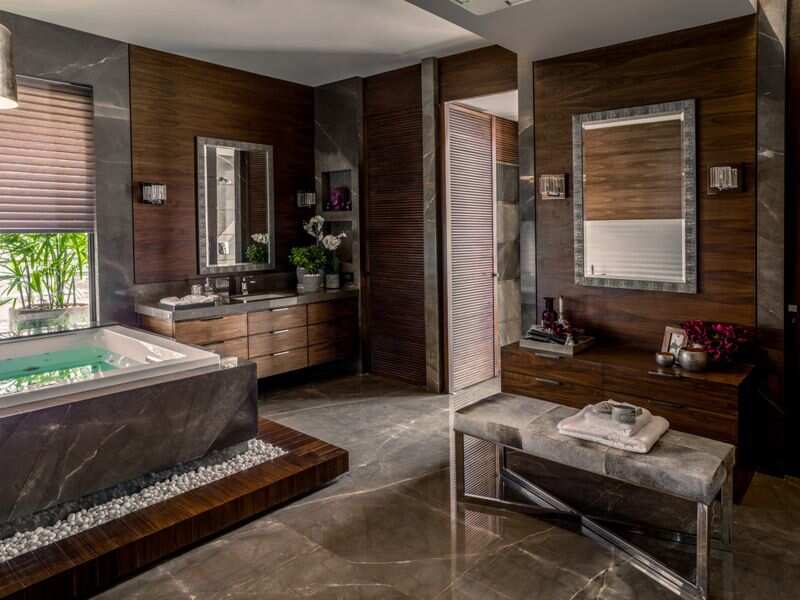 Photo: Fabien Charuau Photography
Unlike small spaces, subdued dark tones can be used quite effectively in large bathrooms. Soothing brown hues create a calm atmosphere in this bathroom, equipped with plenty of storage space and an inviting bathtub. Opaque wood surfaces are offset by metallic elements, shiny tiles and mirrors for a balanced textured composition.
Through
Archana Rajendran
Houzz.fr