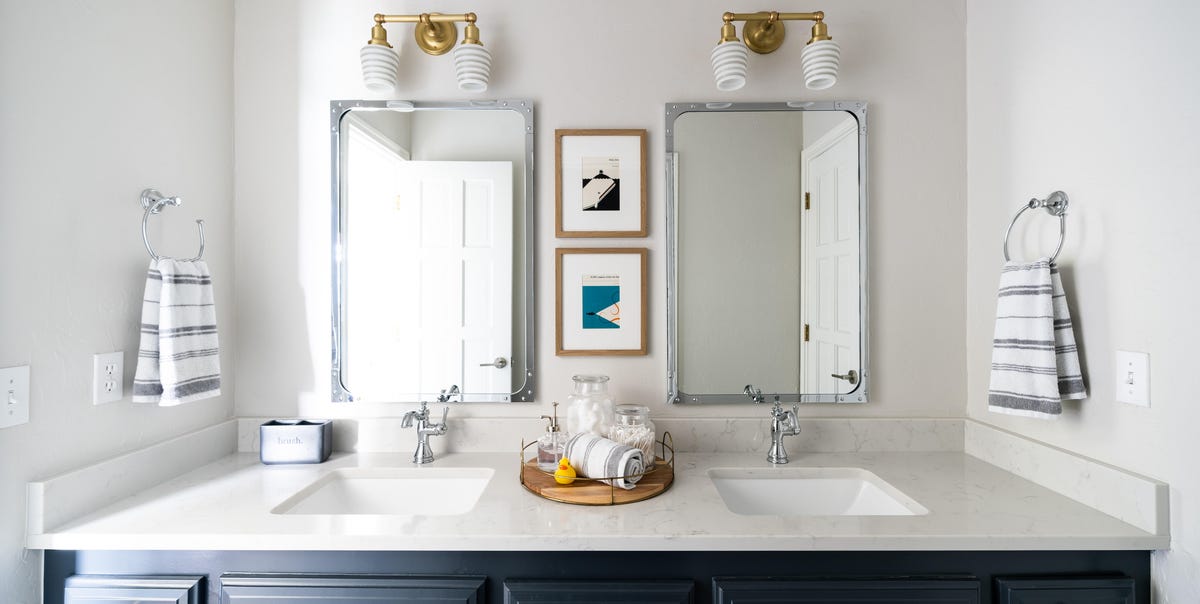 15 Nautical Bathroom Decor Ideas That Channel The Sea
Want to give your bathroom a maritime makeover that isn't too kitsch, overdone, or clichéd? Lucky for you, we have an ocean of ideas on how to expertly infuse nautical vibes into your powder room or toilet to create a cool, serene sanctuary. Whether showcasing the brilliant colors of the sea (blue and white palette, we're looking at you!) with tile flooring or showcasing its curvy shape with mirrors and other decorative accents, keep scrolling for ways to bring the spirit of the sea into your bathroom—without to go too far.
Advertising – Continue Reading Below
Blue arabesque tiles paired with a coral-inspired mirror create an elegant homage to the sea in this Kim Armstrong-designed guest bathroom. "I used a light gray grout because I wanted the shape of the tile to stand out," she shares.
This bright bathroom by Alexandra Angle is the perfect place to showcase the owner's extensive collection of ship paintings.
In a nod to her "camp counselor days", designer Leanne Ford cut up an old Hobie sail to use as a shower curtain. "I just think it's the most amazing warm white," she enthuses. "And we all know it's waterproof!" »
Wall-to-wall green zellige tiles give this asymmetrical bathroom by Romanek Design Studio a laid-back coastal look.
Hovia's playful beach bathers wallpaper paired with an antique ship's wheel mirror "adds a whimsical and unexpected touch to this kids' bathroom," says LA-based designer Stefani Stein.
Turquoise Moroccan tiles from Diona Marble give this California bungalow bathroom by Jeff Andrews a fun pop of color. "We wanted to keep the same palette throughout the house and make it look cool, but not over-designed," says the designer.
Marbled wallpaper by Robert Crowder & Co. and a vintage Egon Hillebrand mirror breathe new life into this sea-inspired powder room by Boston-based designer Nina Farmer, which features paneling painted in Farrow & Ball's Plummet.
A navy and white striped shower curtain and other blue accents give this bathroom by JL Design a playful, nautical vibe.
Striking azure tiles invigorate designer Justina Blakeney's jewel-toned "Jungalow" bathroom, which boasts a recessed niche outfitted with a chic vintage mirror.
Hexagonal tiling on the floor combined with white square subway tiling on the walls in this bathroom "give the perfect seaside vacation and retro camp look," says designer Eddie Maestri. "The sea anchor shower curtain is modern and casual."
This crisp white powder room by Erin Gates features subtle sea-inspired elements, including a coral-inspired mirror, maritime art, and inlaid wood floors meant to mimic the deck of a yacht .
In this powder room (tucked away in a waterfront home in Maine) by Tyler Karu, "the coastal nod comes in the form of Schumacher wallpaper with a slightly light-hearted interpretation of 'a pattern of rope and seashell,' he notes. "We moved away from an obvious blue and white scheme and focused on a tonal gray palette." Meanwhile, the vanity's ceruse finish is deliberately reminiscent of tumbled driftwood.
"Inspired by summers spent in East Hampton, this cool guest bath captures all the simplicity and effortless detail of my clients' summer homes," says designer Chad Dorsey. "The pale blue bath tile from Waterworks really creates space."
Instead of using wallpaper, Kate Ladd Chlebowski, founder of design studio Vernacular, opted to create a tent effect with painted stripes for this little boy's bathroom. "The circular magnifying mirror is a subtle nod to the bathroom's nautical influence, taking inspiration from a ship's porthole," she reveals.
In this pearly bath from Maestri Studio, the shape of the mirror is intentionally reminiscent of ocean waves, while the glass sink is meant to give the space a nautical yet sophisticated feel.
This content is created and maintained by a third party, and uploaded to this page to help users provide their email addresses. You may be able to find more information about this and similar content on piano.io
Advertising – Continue Reading Below