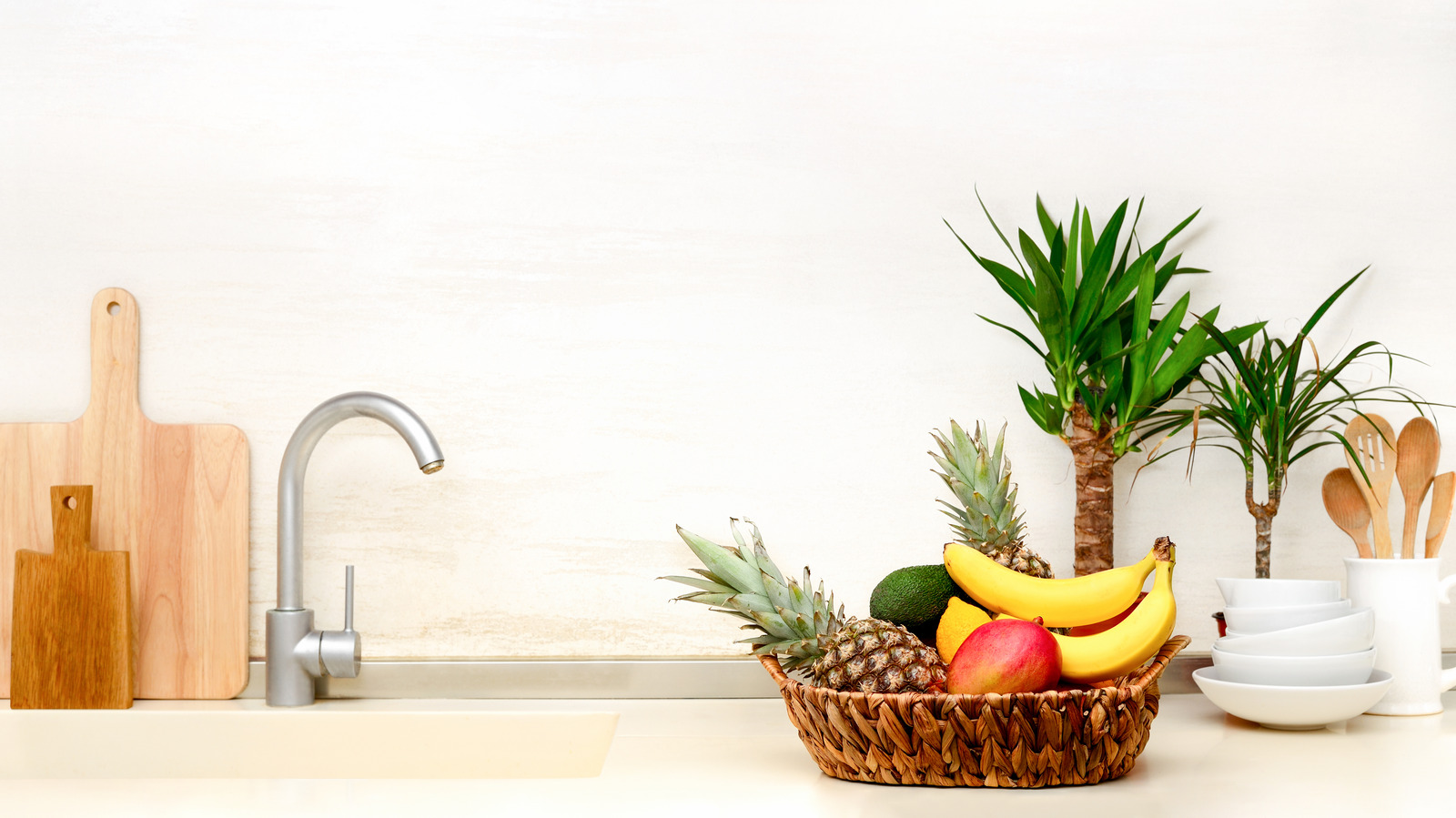 25 ways to incorporate color into your kitchen decor
Here are some interior design tips you've probably heard many times: Don't be afraid of color. However, while this is a great trick, it can sometimes be tricky to implement in some spaces. For example, in the living room, it's quite simple: you can add a cushion, a blanket, a wall decoration or another piece; but in the kitchen, adding bolder shades can be more difficult.
When adding color to this space, Ecos Paints recommends starting by considering warm and cool palettes; think about the colors that create the desired atmosphere. If you like both palettes, you can mix them. Next, make sure each shade you use is consistent and works well in the area. Finally, don't try to use too many tones and make sure each bold piece complements the space without making it overwhelming.
If you're a little color shy, you don't need to dive deep with bold cabinetry or a vibrant accent wall. There are many subtle ways to include color in the kitchen, and below are 25 accent pieces you can easily add.
1. Shades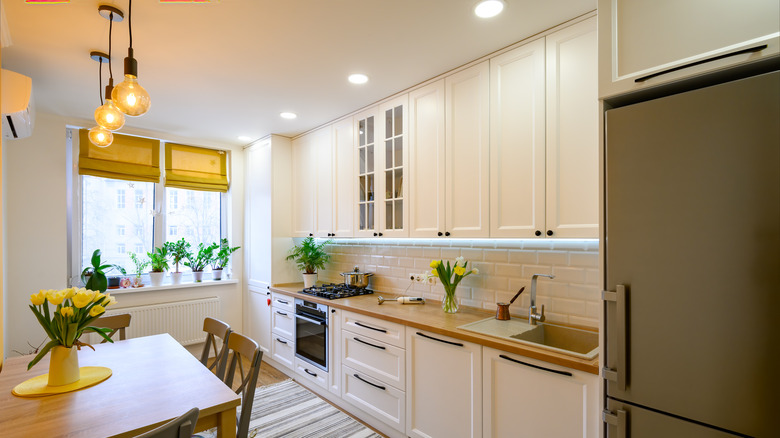 Sergei Starus/Shutterstock
Blinds or curtains hung on the windows will cover the room with a subtle splash of color. The shades of yellow above make this cool-toned kitchen feel warmer.
2. Light strips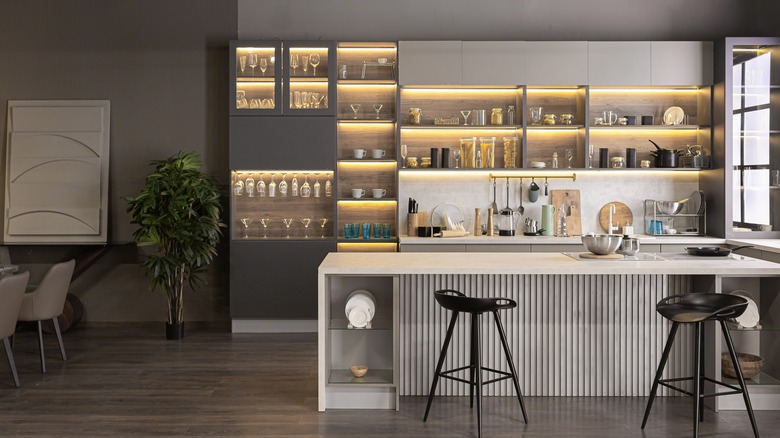 Pinkystock/Shutterstock
Yellow or blue lighting from strip lights or bulbs can completely transform a kitchen, making it appear warm or cold. For example, the space above has warm yellow light strips along the open shelving.
3. Hanging pots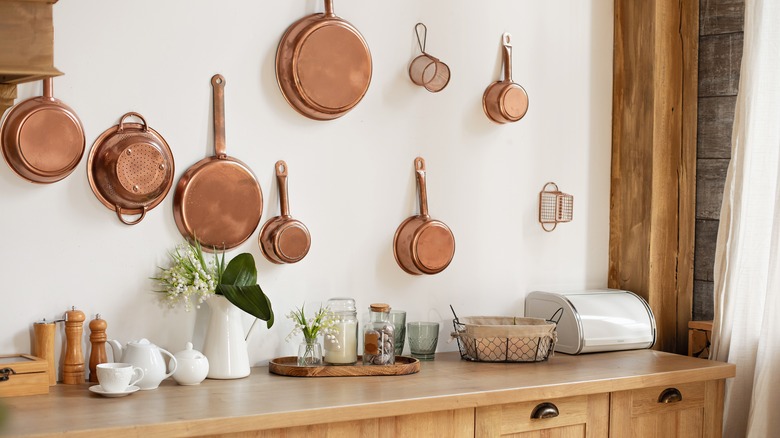 stock_studio/Shutterstock
Hanging colored or pink metallic pots and pans on the wall will not only make them more accessible, but also provide a neutral kitchen with much-needed color.
4. Plants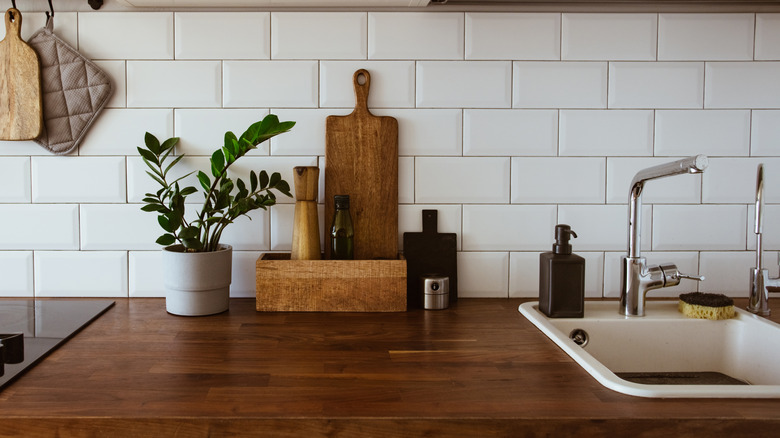 The Katrina Era / Shutterstock
Greenery is a great way to add a very subtle hint of green or a bright flower to your kitchen. They could be added to the counter or along a windowsill.
5. Backsplash tiles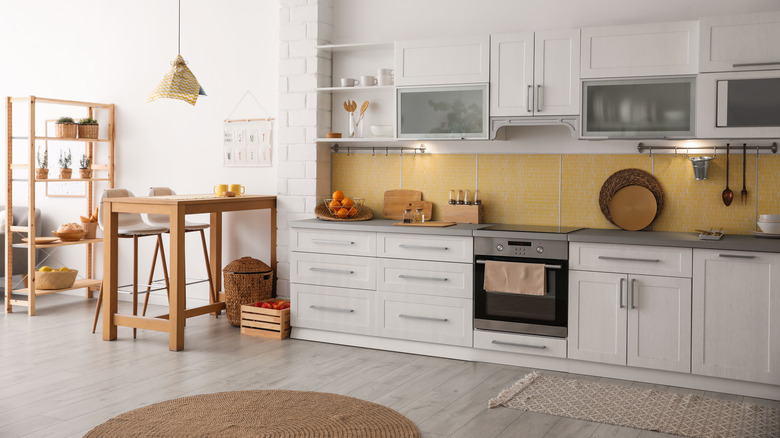 New Africa/Shutterstock
Adding a backsplash in a bold tone will give your countertops a cheerful backdrop. For example, yellow will warm up your kitchen design.
6. Table runner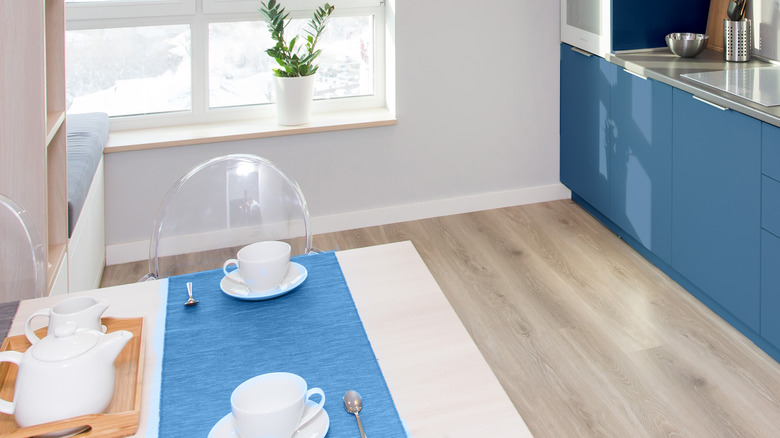 xalien/Shutterstock
Adding a colorful table runner to a kitchen table will brighten up your space without making it overwhelming. Plus, if you have other bold accents like cabinetry, you can match those pieces for a more cohesive design.
7. Chairs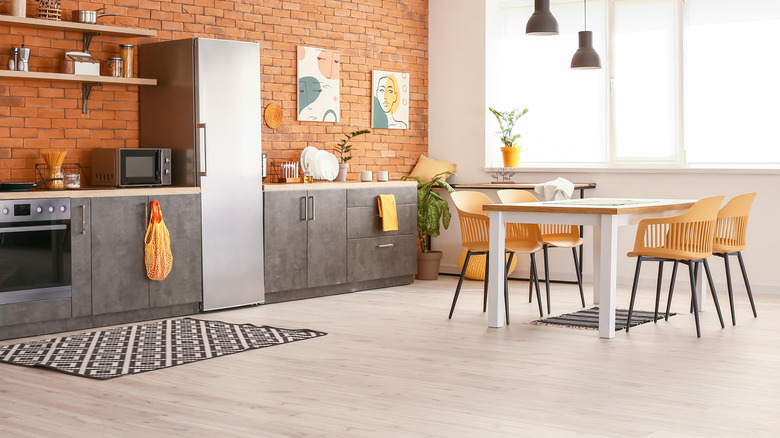 Pixel-Shot/Shutterstock
Consider surrounding your table with colorful chairs. You can also pair them with other smaller items around your kitchen, like towels, planters, and hanging bags.
8. Jars or containers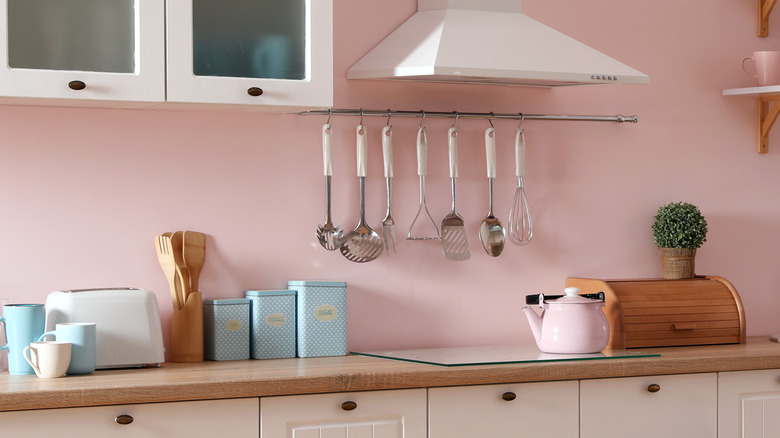 New Africa/Shutterstock
Adding colorful containers to your countertops to hold baked goods or other foods will create a more playful atmosphere.
9. Appliances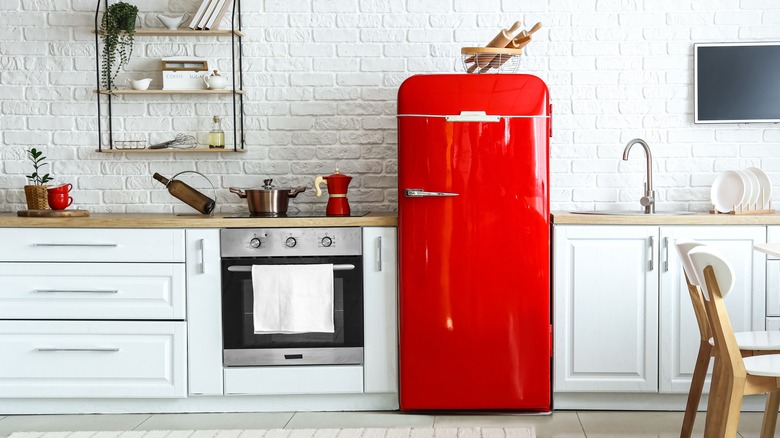 Pixel-Shot/Shutterstock
Although not common, replacing stainless steel or neutral appliances with brighter colored ones will create a cheerful atmosphere. Plus, you don't have to make drastic changes, like replacing your fridge; instead, you can change your small appliances like the kettle or the toaster.
10. Tableware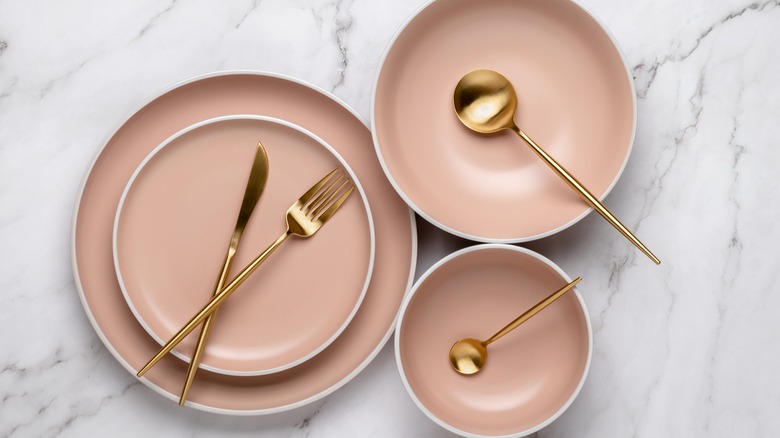 Tatiana Azarova/Shutterstock
A super fun way to add color to your kitchen is to set the table or island with colorful dishes. Using plates, bowls, mugs, napkins, placemats, and silverware in bright, cheerful hues will give your kitchen a well-designed appearance.
11. Flowers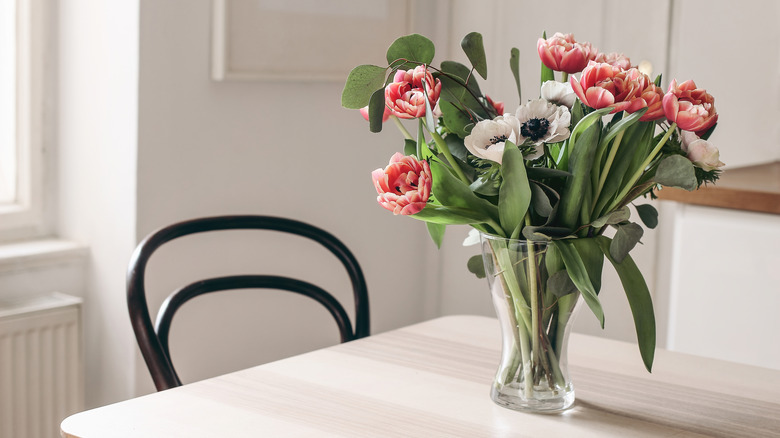 TabitaZn/Shutterstock
Fresh or artificial flowers will not only bring beautiful hues of many colors; they will also give your space a soothing touch of nature.
12. Carpet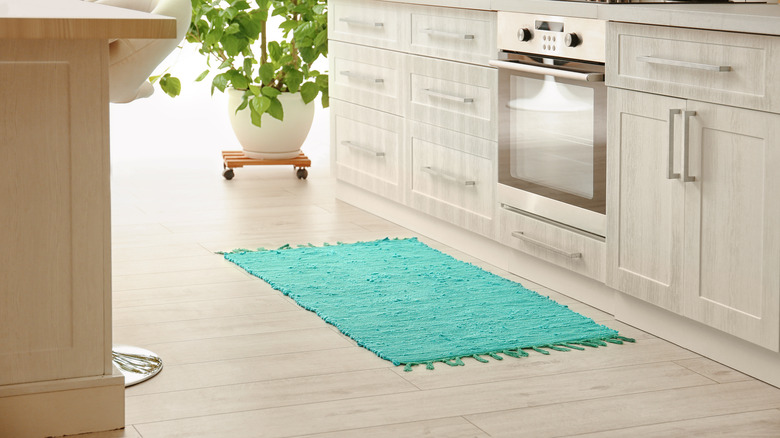 Africa Studio/Shutterstock
Mats are usually placed in front of the sink, although they can also be placed in front of other appliances. You can choose a typical kitchen rug, as pictured above, or a longer rug.
13. Fruit Bowl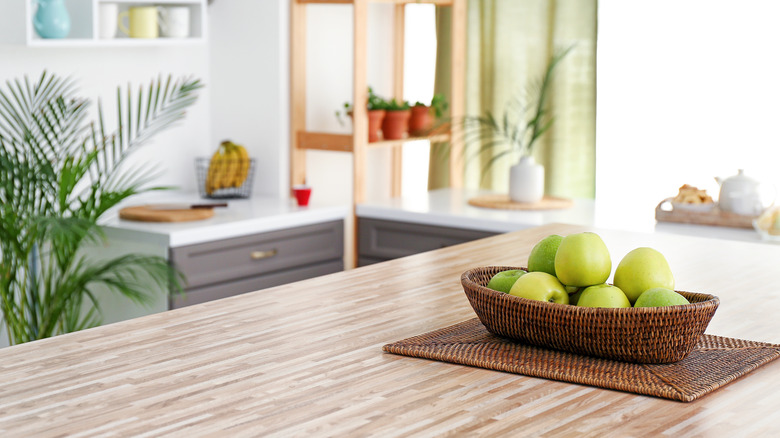 Pixel-Shot/Shutterstock
A simple way to add color to your kitchen is to display fresh (or faux) fruit in a neutral basket. This could be placed on an island or in a dining area.
14. Material
Replacing neutral or boring hardware with something bold will give your kitchen the interesting shine you crave.
15. Utensils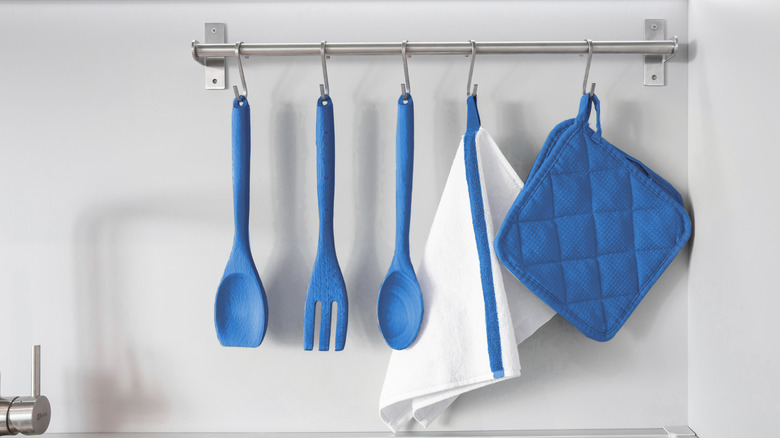 xalien/Shutterstock
Hanging utensils and other kitchen accessories that have been dyed a bright color along your backsplash or wall will give your room a unique look.
16. Utensil holder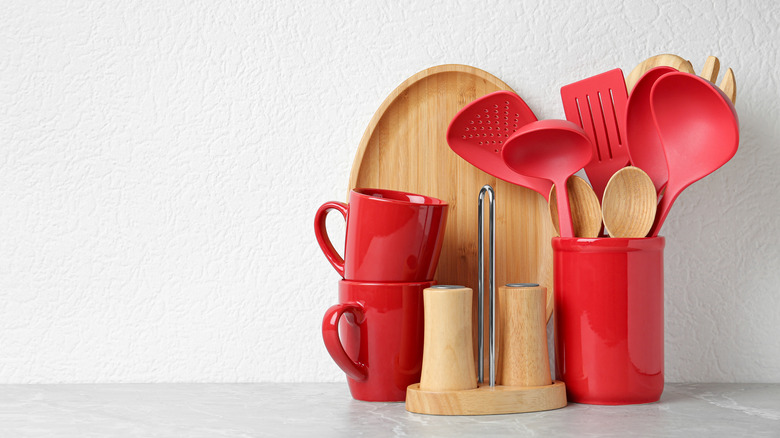 New Africa/Shutterstock
Instead of hanging utensils, you can store them in a brightly colored rack. This would be ideal for those with wooden or neutral colored utensils.
17. Candles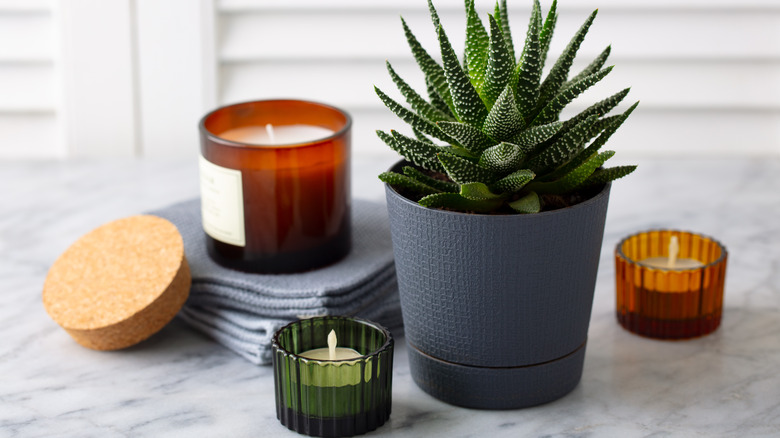 Anna_Pustynnikova/Shutterstock
Candles in vibrant jars displayed on the island or in the center of a table will add more color and warm illumination when lit.
18. Towels
Hanging dish towels from hooks along your backsplash is an easy way to introduce color into your space.
19. Season Pieces
Create a seasonal display by layering three or five pieces in a natural tray and placing it on the island or in the center of a table.
20. Stools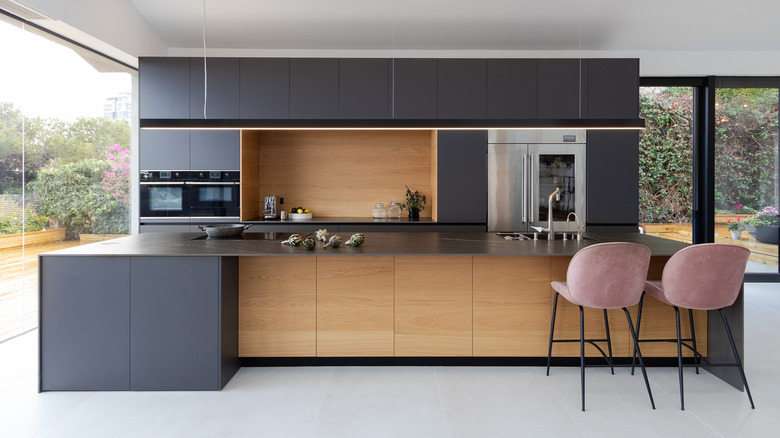 Luciano Santandreu/Shutterstock
Colorful stools can add a welcoming touch to neutral spaces. Those made of plush materials like velvet will add an elegant appearance.
21. Holds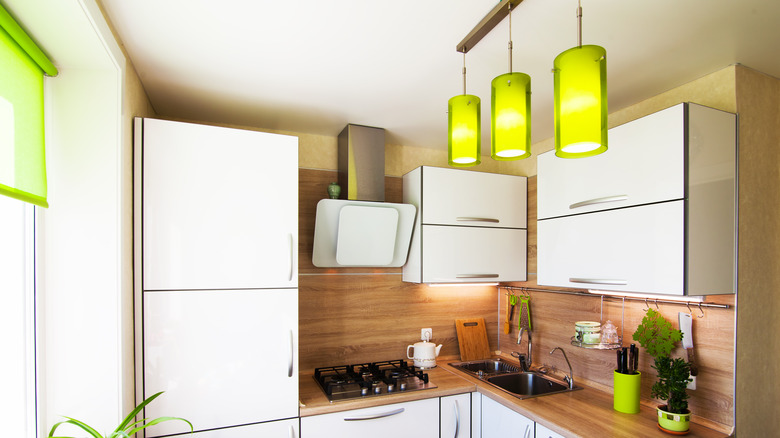 Yuri Stroykin/Shutterstock
To cast a colorful glow over your space, choose pendant lights in bright tones, like the lime green fixtures above.
22. Tablecloth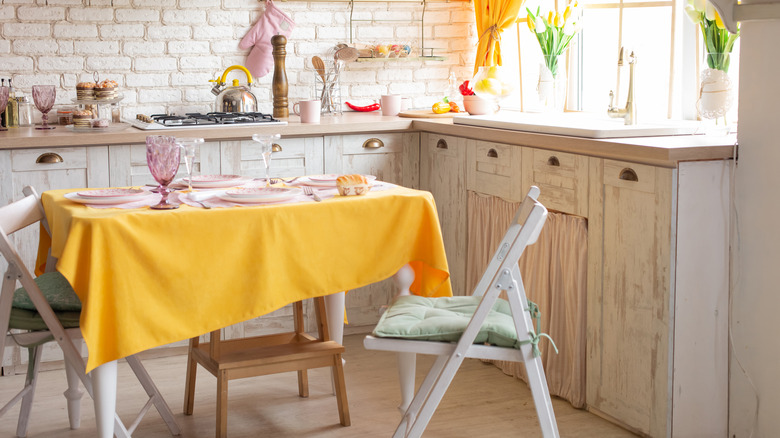 Svetlana Satsiuk/Shutterstock
An easy way to add a touch of interest is to lay a tablecloth over your kitchen table. You can also add crockery in a different but still consistent shade, like in the space above.
23. Rolling cart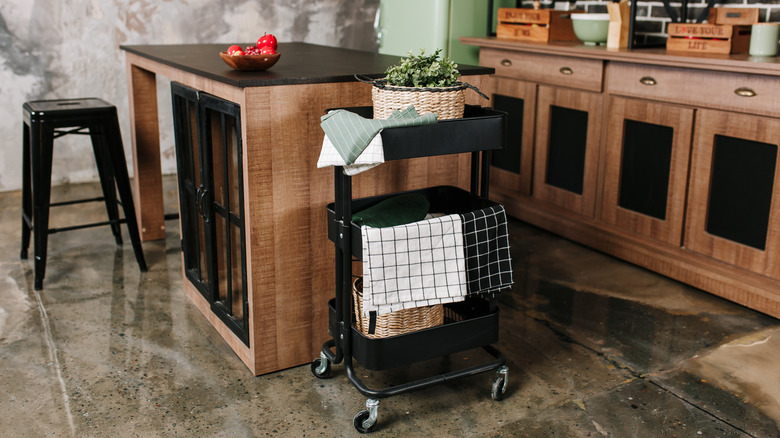 Oksana.Bondar/Shutterstock
You can also create more opportunities to display color with unique shelves. A rolling cart would provide the perfect space to decorate with plants and colorful tableware.
24. Open shelves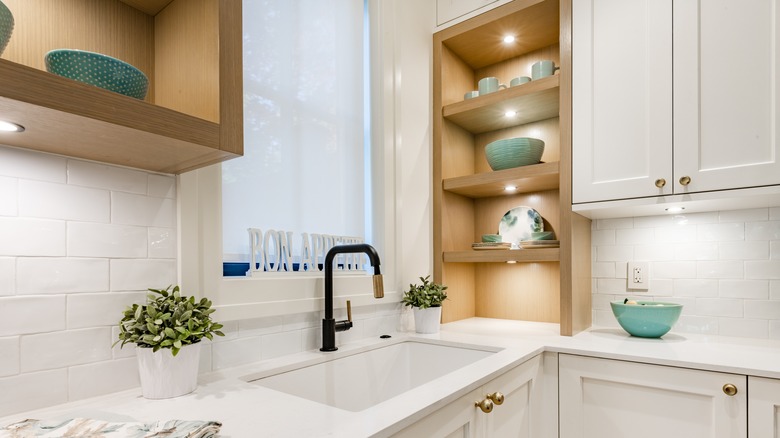 Sheila Say/Shutterstock
Another feature you could add to your kitchen to include more open storage is shelving. Decorate your open shelf with brightly colored platters and platters for a pop of color.
25. Glazed cabinets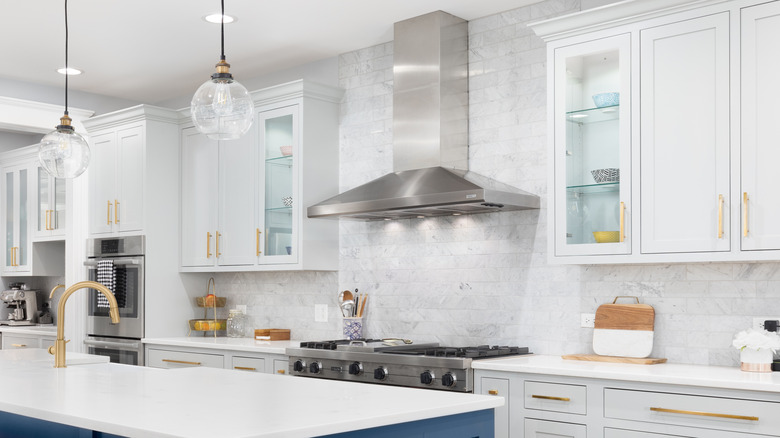 Hendrickson Photography/Shutterstock
Likewise, cabinets with glass doors allow you to see what is stored inside. This is a cleaner, easier to maintain alternative to completely open shelving.