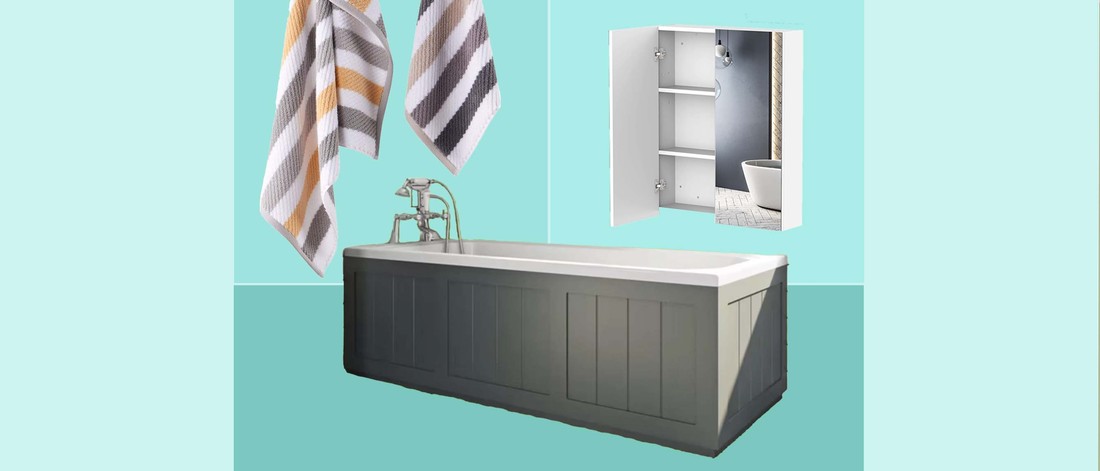 7 easy bathroom decor upgrades
But what if, as a homeowner or even a tenant, you just want to refresh, modernize or update an existing bathroom. Can it be done without involving craftsmen or requiring advanced DIY skills? In short, yes and we have what you need.
Check out these seven products that together could transform the most intimate space in your home without replacing your existing bathroom.
Read more: 17 Stylish Bathroom Accessories That Only Look Expensive
Truly Lou Quick Dry Striped Towel Set
Go to details

HOMCOM Wall Mirror Cabinet Bathroom Storage
Go to details

Orchard Dulwich Stone Gray Wood Bath Panel Set
Go to details

John Lewis & Partners Block Stripe Bathroom Trash Can
Go to details

2 Dremel Multi-Tool Grout Removal Tool Set
Go to details

Accent Options Traditional Towel Rack
Go to details

Eggshell emulsion paint Dunelm Ivory
Go to details
1. Revise your bath towels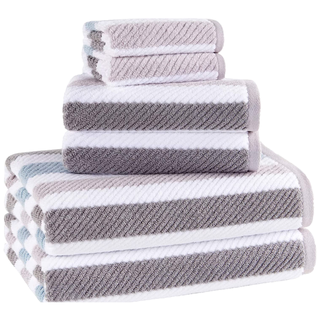 Photo: Amazon
Truly Lou Quick Dry Striped Towel Set
Many of us have a hodgepodge of unmatched bath towels, but when considering the overall aesthetic of the room, a matching bath towel set that complements your existing color scheme is an easy win.
The Truly Lou Quick Dry Striped Towel Set featuring two bath towels, two hand towels and two washcloths is highly rated by Amazon shoppers, with 84% giving it five stars at the time of writing. Generously sized, these towels are made from sustainably sourced materials and come in a range of colors that will suit most existing bathroom decor.
2. Invest in a clean-lined bathroom mirror cabinet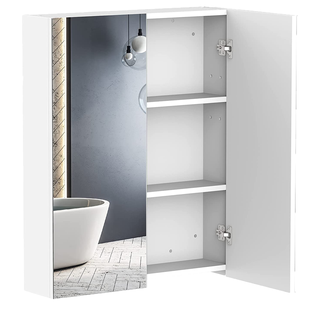 Photo: Amazon
HOMCOM Wall Mirror Cabinet Bathroom Storage
Every bathroom needs at least one mirror and ideally some sort of cabinet to store toiletries. If you don't want the expense of installing an electrically wired LED mirror, this mirror may be for you. The easy-to-install, wall-mounted HOMCOM mirror and cabinet combo is a very practical bathroom upgrade.
Measuring 150d x 600w x 750h in millimeters, it has plenty of storage space with three shelves – the top one of which is height adjustable – and decently sized mirrored doors. Simple, practical and sensible, it is also very popular with Amazon shoppers.
3. Solve boring bath panels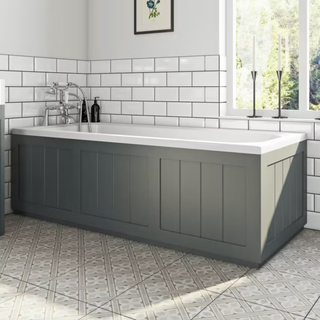 Photo: Plum Victoria
Orchard Dulwich Stone Gray Wood Bath Panel Set
You save
£75 (26.41%)
£209
£284
Replacing an entire tub typically requires two people and the services of a plumber. But if you have a standard UK sized bath – 1700mm x 700mm – and a bit of DIY ability, you can seriously improve its appearance by replacing damaged or cheap bath panels.
We love the elegant Orchard Dulwich stone gray wooden bath panel set available from Victorian Plum. It's designed in the UK, made from engineered wood and has a timeless look that works in modern or traditional bathroom styles. The pack contains front and rear panels, but the front panel can also be purchased on its own for £165.
4. Don't ignore the bathroom trash can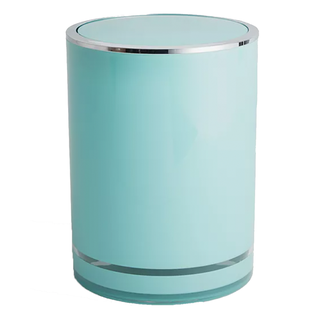 Photo: John Lewis and Partners
John Lewis & Partners Block Stripe Bathroom Trash Can
Sometimes overlooked, a bathroom trash can should be considered an essential part of your bathroom furniture. And there's no reason it can't add a splash of color and style to the setup, either.
This John Lewis & Partners Block Stripe bathroom bin does just that and seems to be popular with the store's style-conscious customers. Part of its own ANYDAY range, this plastic bin is available in teal, white or gray and has a simple swing lid. For a coordinated look, it can be paired with other accessories from the John Lewis Block Stripe range.
Read more: 17 stylish bathroom accessories that only look expensive
5. Revisit easy-to-forget finishes
Photo: B&Q
2 Dremel Multi-Tool Grout Removal Tool Set
Sometimes improving your bathroom decor is less about tapping into your interior interior decorator and more about applying a patch of old-fashioned elbow grease. Caulk around bathroom fixtures and grout between tiles will, over time, discolor, deteriorate and detract from the appearance of your bathroom. The only solution is to dig up the old and reapply the new.
For big tile grouting jobs, a B&Q Dremel Grout Removal 2-Piece Multi-Tool Kit will make quick work of an otherwise laborious task. Silicone sealant requires a different technique and online reviews suggest that the Vitrex SRF005 Silicone Removal and Replacement Kit is loved by the vast majority of professionals and DIYers who have used it.
Tip: Warm the putty with a hair dryer for easier removal.
6. Opt for practical and attractive bathroom storage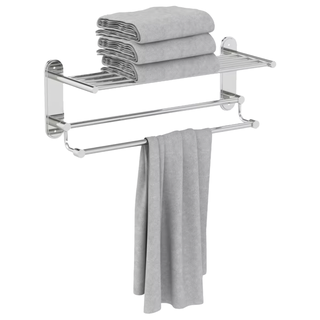 Photo: Plum Victoria
Accent Options Traditional Towel Rack
Want to both show off and dry your color-matched towel set? If you don't have a heated towel rack, drying towels in a bathroom can be a hassle, as freestanding towel racks often take up valuable space. The solution is a combined towel shelf and wall-mounted towel rack that perfectly handles storage and drying problems.
We love this Accents Options Traditional Towel Rack available through Victoria Plum. The upper shelf allows towels to be stacked neatly while the two lower rails hold towels ready for use. Its stainless steel design offers a fresh, polished look that also works great with more bathroom accessories.
7. Apply a new coat of paint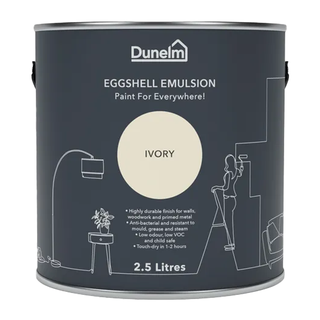 Photo: Dunelm
Eggshell emulsion paint Dunelm Ivory
Walls, ceilings, and floors might be considered the biggest jobs in any bathroom improvement, but of the three, walls, especially if they only require painting, are often within the reach of the do-it-yourselfer. If painting is an option for you, Dunelm offers excellent color choices in their range of emulsion paints. These products are ideal for walls, trim, radiators and primed metal surfaces. They are also mildew and steam resistant, making them perfect for humid bathrooms.
Available in a matte or eggshell finish, you can go bold with an emerald green or more subdued with an ivory that will coordinate with a wider range of complementary colors. It's one of the beauties of a bathroom upgrade, you can go wherever your own style and imagination takes you!
---
The information presented above is accurate as of 07/01/2022. We are not responsible for price changes. The "Top Featured Buys" badge indicates sponsored content, and we may earn a commission when you make a purchase.