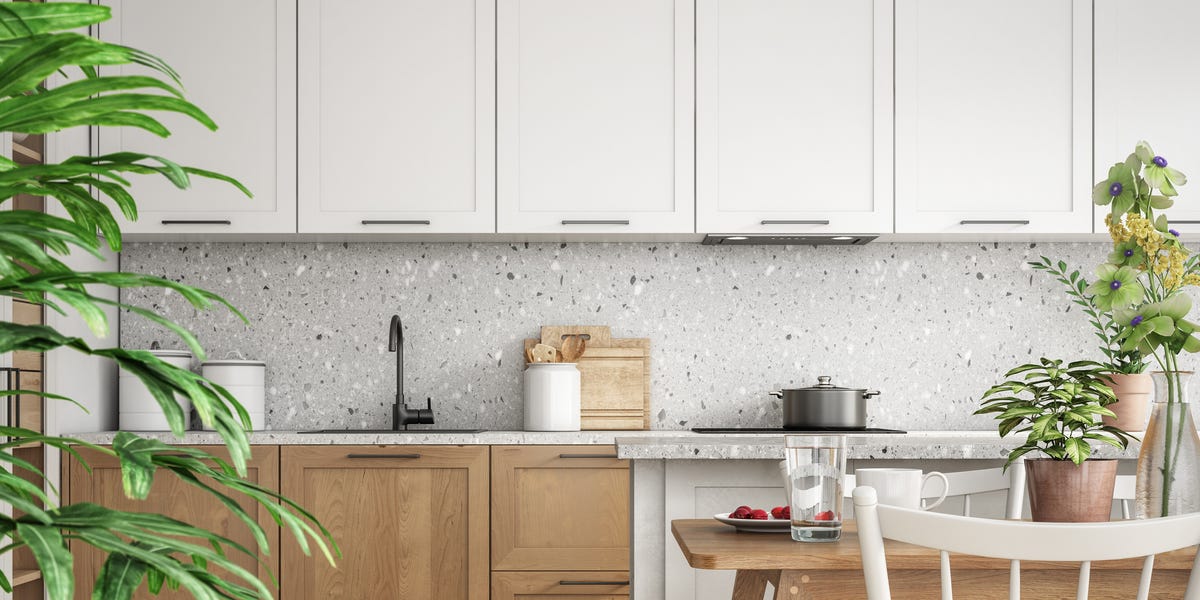 Best kitchen decorating ideas – kitchen ideas from design experts
Whether your kitchen is a small kitchen or a large space, making it sleek and stylish will create the perfect environment for cooking and spending time indoors.
Want to give your kitchen a facelift, but don't know how? Whether you're looking for a quick refresh or a complete overhaul, we spoke to six design experts to get their top kitchen decorating tips.
Decorative ideas for the kitchen: Kitchen elements
"The first thing I would look at are the kitchen elements themselves and if they need a new lease of life," says the interior designer Tracy sifaoui. "If so, spray painting on cabinet doors may be a good option. Spray painting (by a professional) gives a much cleaner, wear-resistant finish."
You do not know which color to choose for your cabinets? "When I think of a color for the units themselves, I would be personally careful and go for a classic and timeless color, like white, duck egg, soft green or gray," advises Tracy. "You can add personality and more color strength in different areas and change as you like over time based on the latest trends."
Are you looking for a quick fix? "You can also spruce up older units by changing cabinet handles," suggests Tracy. "It can actually make a huge difference to your cabinet doors. "
Decorative ideas for the kitchen: Kitchen tables
If your kitchen is large enough to accommodate a table, make sure it's a real centerpiece that adds drama and functionality to your space.
"The kitchen table has become a great family friend to all of us lately, especially for family meals, work, cooking and school," says Sue Timney, interior designer and member of the British Institute of Interior Design. "If you're looking to buy a new table, make sure it's expandable to meet your new multi-space needs," suggests Sue. "This will help create a versatile space and you can also repaint and customize it later."
Decorative ideas for the kitchen: Lighting
Your kitchen is a great place to experiment with lighting to create light and make the most of your space.
"The kitchen is a space where task lighting is vital," says Mary Buchanan, Creative Director and Director of the Board of Directors of Laura Ashley Lighting and Mirrors. "If your room doesn't have access to natural light and you want to create a bright workspace, consider installing lighting with cool white low-energy (LED) bulbs. Alternatively, bar pendant lights provide a direct light flow to create a welcoming atmosphere for guests and a focal point, while wall sconces can cast beams of light around the edge of your space decoratively or use simpler styles for a more casual vibe. "
If your kitchen is open plan with an adjoining dining or living room, Mary suggests dividing it into "zones" to provide a distinction between spaces. "This can be accomplished using directional downlights or a one-off task with swivel joints in the prep and cooking areas and oversized pendants with dimmers above the table or island to add drama and drama. the atmosphere, "she said.
Above all, coordinate your lighting with the style and look you want. "Use a lighting style to coordinate with the aesthetic of your kitchen," advises Mary. "Choose designs that are as functional as they are beautiful to look at. Add a touch of luxury with beveled glass for a play of light and reflections or velvet shades to be unabashedly glamorous. "
Decorating ideas for the kitchen: Paint and wallpaper
"I encourage people to look at wallpapers in a kitchen, especially vinyl wallpapers," says Tracy Sifaoui. "They act as a way to inject personality, pattern, softness and warmth into what is otherwise a space full of hard surfaces."
If you'd rather stick with painting, Patrick O'Donnell, Brand Ambassador at Farrow & Ball, has a few suggestions on trendy colors this season. Pink is all the rage for SS21, with Patrick suggesting to "kiss the sweetest, sweetest pinks". Alternatively, those with dark cabinetry should consider complementing this with "undertone off-whites for a slight relief on your walls and woodwork." This will create "a calm, cohesive pattern, with just the right amount of dramatic statement," according to Patrick.
If you are looking to add some edginess to a white kitchen, consider adding just a splash of color. "To add a simple touch to the white look, add a pop of color, either on the woodwork or using color blocks for a decidedly modern feel," suggests Patrick.
Decorative ideas for the kitchen: walls and gallery prints
Opting for prints in your kitchen is a great way to bring the space to life and display your personal tastes and interests. Whether you go for a few prints or go all the way with a gallery wall, the options are endless.
"Having an aesthetic kitchen space encourages family time and helps cultivate a relaxing environment," says Annica Wallin, Executive Creative Director at Desenio. "Cooking becomes an even more enjoyable experience when you are in a beautiful space."
Looking for inspiration for print? "For an easy interior update for the summer, combine culinary and cocktail-inspired prints and illustrations of vibrant cocktails of various sizes and styles," advises Annica. "Don't be afraid to mix bright colors with soft palettes either; for example, pair tangy oranges and tangy yellows with pretty peaches and muted sage for a trendy look for SS21. "
Decorative ideas for the kitchen: Vases and ornaments
Whether you're looking to add a splash of color or drama to your kitchen table or make the most of a windowsill, vases and ornaments can help complete the look of your kitchen.
Choose decor options that complement the colors, space, and feel of your kitchen. You can use them for decoration or select vases that can be used to display bouquets or dried flowers.
"Everything in your kitchen doesn't have to be purely practical," says Daisy Bendall, Homes and Style Assistant at Good Housekeeping. "Vases can be a great way to add personality to your space and, when filled with beautiful flowers, they will make an eye-catching display. "
Like this article ? Subscribe to our newsletter to receive more items like this straight to your inbox.
Need a little positivity or not able to hit the stores? Take advantage of Good Housekeeping delivered right to your door every month! Subscribe to Good Housekeeping Magazine now.
SUBSCRIBE NOW