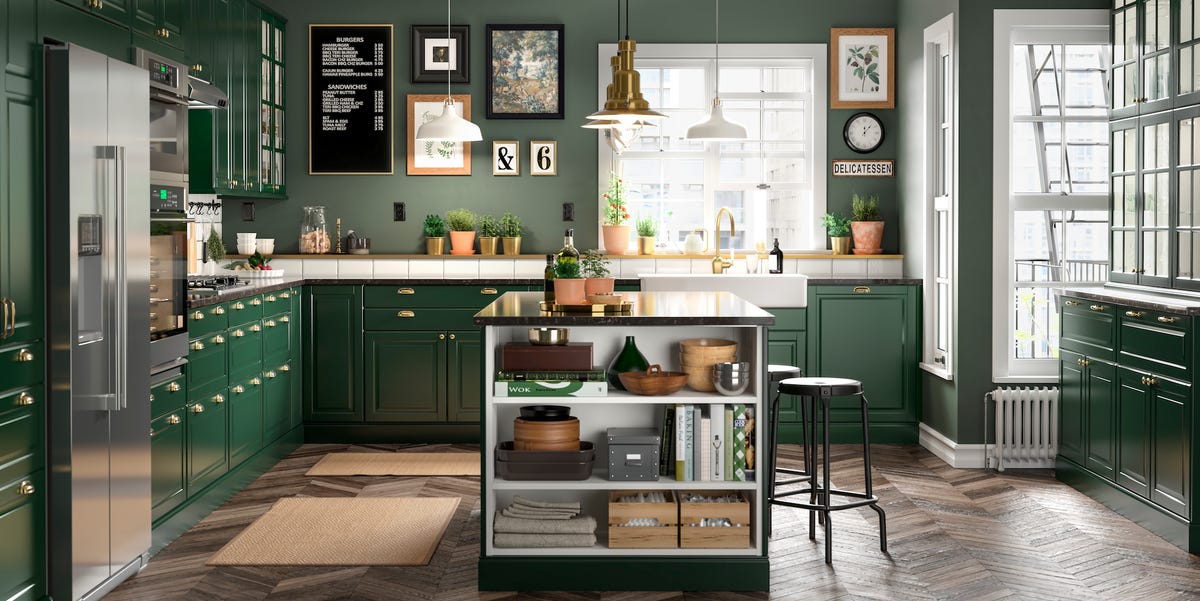 How to design a classic kitchen
Building a whole new kitchen that feels like it's been around forever offers the best of both worlds: contemporary needs are met in a comfortable and timeless gathering space suitable for a guest parade. It's a kitchen that can grow and adapt to changing needs, while still maintaining a warm and inviting vibe, a balance that most people covet.
Fortunately, this look is called "timeless" for a reason: it's easy to achieve, even with the latest technology. Opting for an efficient arrangement of high quality basic elements surrounded by plenty of cabinet space will make this kitchen very useful.
Durable materials and established designs should be the basis of this kitchen. Fortunately, you can turn to IKEA for everything you need to design one that will stand up to years of wear and tear and the vagaries of style.
---
A classic kitchen has to withstand a lot, but you can still make room for timeless, handcrafted details that add warmth. Personalization is essential when you need life-proof counters and cabinets, but still want smart details.
"Even a traditional kitchen can look modern thanks to the careful choice of color," says Viola Mushkudiani, senior interior design manager at IKEA. "Use brighter or trendy colors on doors, walls and kitchen finishes to create a transitional look. "
Laminate countertops
Laminate countertops are durable and polished, and often comes in a range of shades. They are easy to maintain, wipe off no matter what and do not wear out like natural stone. Additionally, today's laminate surfaces, while remaining affordable, can mimic the look and feel of stone or quartz.
Cabinetmaking
An ultra-versatile and modular cabinetry system will allow you to meet the specific needs of you and / or your family. Look for a mix of low and high storage so you can keep everyday tools close at hand and more infrequently used items tucked away. Simple shaker fronts with a beveled design will fit in perfectly or showcase a special set of dishes with a style that incorporates glass. Try a multi-pronged option for larger cabinets or a quaint crossbar pattern for smaller ones
For easy storage of your countertop kitchen utensils – food processors, toasters and instant pots can add up – a counter-level cabinet can be fashioned from a horizontal wall cabinet, hinged at the top. Close the shop, and it's like a clean slate until the next use.
Age-old, lofty touches
Gas cooking is as classic as it gets, and a pull-out cooker fits into the surrounding cabinetry, accommodating all kitchen sizes. The cast iron grates that can be removed and cleaned, along with the upward facing knobs, are contemporary upgrades to the simple design.
An antique brass colored faucet with a tall spout blends the past with the present. Look for one with a contrasting handle in a sleek fuselage to accentuate the vintage feel.
---
---
Maybe you have a separate dining area, maybe you don't, but having a place directly in the kitchen to gather makes the time spent even more joyful. There are a few ways to do this, but we like both of these options.
Relaxed, counter-height seating

If your kitchen layout includes an island or breakfast bar, add casual seating that doesn't take up too much space. Try powder coated steel or solid wood stools that are easy to move. Or a style with a classic silhouette and back that adds to the artisan look.
---
---
Breakfast corner
One of the most comfortable looks for a kitchen-diner is a breakfast nook, surrounded by built-in seating or benches. There is wiggle room in the finished product, and the styles suit kitchens of all shapes and sizes. The equation is simple and ingenious:
Start with a storage bench and anchor it along a wall or set up two benches perpendicular to the inside of a corner. Complete with a few bench cushions or chair cushions for extra comfort, and add an easy-to-move table. Top it all off with aftermarket seats and finish the look with pendant lighting that exudes comfort.
Are you short of space and storage? Try a legged table with large leaves that fold out in both directions; when they are lowered, it becomes a fine console with drawers. Folding or stacking chairs easily fit into the look and can be hung from a hook or corral in a corner when not in use.
---
---
Details make a classic kitchen truly memorable, so incorporate accents that brighten up your day, whether functional or purely decorative. Aluminum handles in classic black or metallic color could give a vintage feel without dating your space, and functional textiles in soft colors with classic patterns do the same job.
If you go for a neutral palette, the avocado green accessories fit perfectly into the most classic kitchen, and the scallops on the edges of the bowls or textiles add a charming visual element. And finally: what is a classic kitchen without a cookie jar?
---
---
Getting the look of a classic kitchen updated for modern living is all about balance. Whether you need help visualizing what's possible or are looking for a partner to make the kitchen of your dreams come true, IKEA Kitchen Services is here to help. Make an appointment to get started.
This content is created and maintained by a third party, and uploaded to this page to help users provide their email addresses. You may be able to find more information about this and other similar content on piano.io