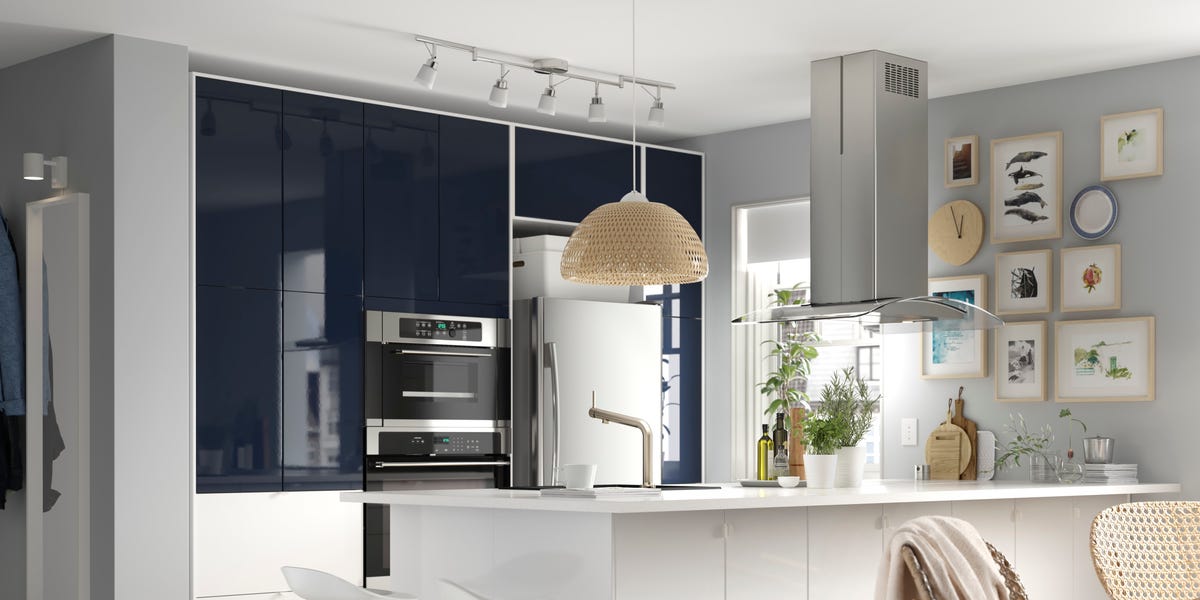 How to design a colorful kitchen
More color in the home has become a growing trend in the design world over the past few years, and the kitchen is no exception. Homeowners opt for cabinetry in deep, saturated hues with non-traditional finishes instead of classic white or wood. They bring sparkling chairs, hard-hitting handles, and even shiny glassware and tableware. A colorful touch is something the Swedish retailer IKEA is tuned in, offering options to suit all tastes.
While shiny jewelry tones or patterned cabinet panels may seem like flashy choices, choosing eye-catching details doesn't mean you have to go maximalist with the entire design. (The colors themselves don't even have to be in your face – the muted options are just as easy on the eyes.) On the contrary, the key to adding color to the kitchen, without overwhelming the room. , is the balance. Here's how to find it.
Use white walls and neutral fixtures as a base
Paint is often the first thing people consider when they want to inject color into a room, but in the kitchen, focus on the cabinetry – it often takes up more space than the open wall space. A good tactic is to keep the walls white and use the color of your cabinet as an anchor for your project; then choose accessories and accents like curtains and rugs that showcase or play well with that hue in subtle ways.
To create a balance, keep the other surfaces neutral. Appliances, if not panel ready, should be stainless steel or black. For counters and backsplash, choose a finish that won't compete with cabinetry. White subway tiles are foolproof, but if you want to add more character, select a less ubiquitous shape, such as a fish scale, diamond, hexagon, penny, or chevron. Natural wood or wood veneer countertops look great with almost any color, but a white or gray quartz or laminate would work equally well.
Turn your upper cabinets into art
IKEA offers cabinets in a variety of visually exciting shades, perfect for complementing kitchen storage. The forest green BODBYN offers a modern touch on a traditional raised panel; the shiny JÄRSTA black-blue works with a contemporary style; and BODARP features a muted gray-green for a more subtle dose of color.
If the thought that every piece of furniture, top and bottom, is striking makes your eye tremble, know this: you can go colorful or patterned on some, and reserved on others. One option is to make your upper cabinets an eye-catching choice. Think about what you choose as the work of art you want to display.
Model: The YTTERBYN line offers three graphic prints in shiny blue Where black for an adventurous look.
Board : The UDDEVALLA painting finish gives cabinets a subtle texture and a useful, fun surface for keeping lists and family notes (in rainbow chalk, of course).
Textured black: The TINGSRYD facades feature a wood grain print that softens the dark undertone.
Or, create interest from the bottom up

If you prefer to anchor your look from below, a popular choice is to use a darker shade, like deep green or navy blue, on the lower cabinets, while keeping the upper cabinets in a light neutral like white or light wood.
To create an even lighter look, install doors with glass fronts. Or try open shelving and paint them the same shade as the rest of the top cabinets for extra cohesion. You can even create a subtle contrast with natural wood.
Cabinets on a kitchen island are another great opportunity to have fun and incorporate some color; keep the perimeter cabinets neutral and make an island statement.
Go monochrome

The idea of ​​coating an entire room with one color may seem like the exact opposite of balance, but sticking to a monochromatic scheme can actually make for a minimalist look. You basically take the blank slate of an all white look and just dye it a different shade.
It's not as easy to achieve this with colors like green and blue (since not all devices or handles are in these shades), but if you're bold enough, there is something to be said for. an entirely black kitchen. If you go this route, go for a matte finish across the board like IKEA's LERHYTTAN cabinets, to soften the look.
Have fun with colorful accents
If the cabinets are too demanding, consider swapping out accessories and decorative accents to add eye-pleasing pops of pigment. The options here are endless:
Lighting: Add a pair of color-blocky black pendants on an island, or install a light fixture in the shape of a flower in yellow Where Red on a dining table.
Dishes: If you have open shelves or glass cabinets, use your dishes to inject color. IKEA has options in almost every shade: sage green, teal, turquoise, millennial rose, black, coral, and more.
Table top: A rainbow of dishes not your style? Instead, opt for saturated tableware and serving items for a functional touch of color: sky blue pots and pans, a brown serving plate, jade tinted water glasses. Or try platters with fun patterns, like green cashmere, tropical flora, shining birds, Where orange and yellow stripes.
Carpet: Never underestimate the styling power of a kitchen rug. Even if everything else is neutral, a trendy rug can completely transform the room, from bright green BREDEVAD with a zigzag pattern, at the bordeaux VEDBÄK with a traditional floral print, pastel stripes SOMMAR 2020.
---
Adding color to the kitchen has never looked so good. Whether you need help visualizing what's possible or are looking for a partner to make the kitchen of your dreams come true, IKEA Kitchen Services is here to help. Schedule a meeting to start.
This content is created and maintained by a third party, and uploaded to this page to help users provide their email addresses. You may be able to find more information about this and other similar content on piano.io