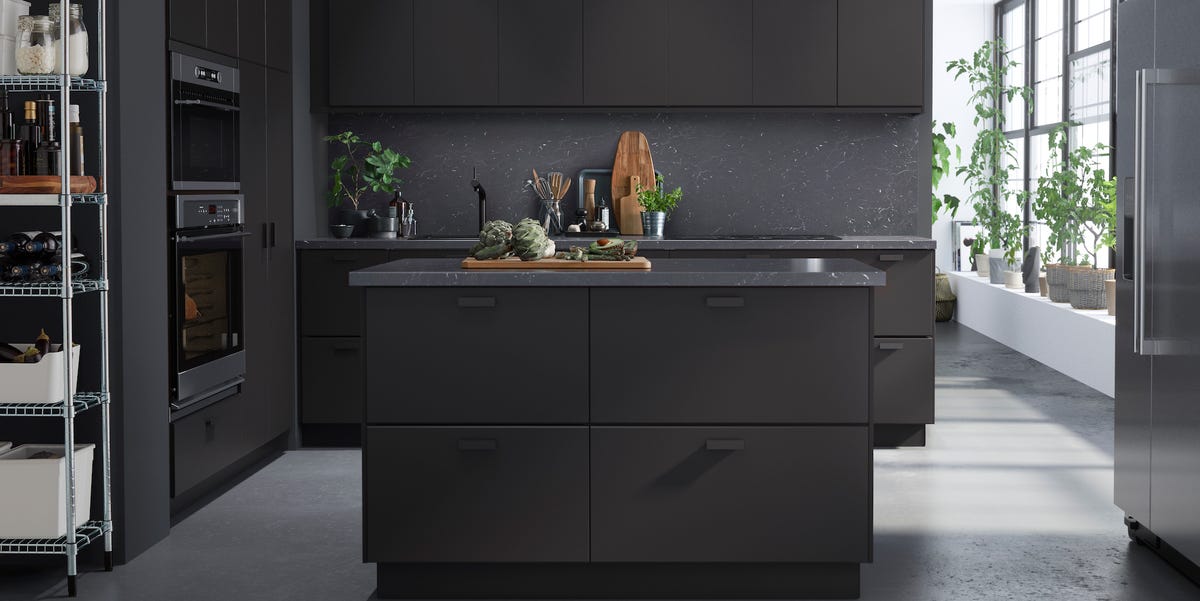 How to design a modern and minimal kitchen
The clean, minimal design of a modern kitchen relies on clean lines, neutral base colors, and tidy surfaces to keep the atmosphere serene. The style serves as a calm, collected backdrop for whatever you choose to layer – a bold pattern on drawer fronts, pops of color in a backsplash, matte or shiny metals in fixtures or handles. It's a place that makes the mornings less hectic, and returning there allows you to breathe a sigh at the end of the day.
The trick to this style is to carefully plan your cabinets and storage for a neutral, well-maintained look, and then focus your imagination on simple ways to bring them to life. Live by the adage "a place for everything, and everything in its place": by building deliberate storage space for everything you will need, your kitchen will stay tidy inside and out, preventing any parasitic clutter to disrupt your design (and your life).
IKEA has everything you need to get started, including specially designed and customizable storage options to keep everything streamlined. Follow us for product suggestions and advice.
---
A modern look is defined by everything streamlined: symmetry of horizontal and vertical lines, simple and elegant materials, built-in appliances and lighting. Start with a cabinet color that isn't too busy, but has character.
"You don't have to use just white cabinets and fronts to create a minimalist look in your kitchen," says Viola Mushkudiani, senior interior design manager at IKEA. For example, she adds, there is a trend towards matte finishes and soft, warm or organic colors.
Dark gray
Dark gray is a classic, stylish neutral that hides more wear than a white or beige. And if you choose an option with a push-to-open function, the cabinets blend into the background particularly easily.
Gray green
Keeping things neutral doesn't mean avoiding color. A muted green makes a fantastic base when you need a little oomph for your blank slate.
Brilliant white
Crisp white has a timeless allure. Choose high gloss cabinets and they will stand out without showing too much, and they will be easy to clean.
Black
A classic neutral that also plays with a bit of drama, black lends a certain moody sophistication to a kitchen.
---
---
Maintain the serenity of your minimal base (those sleek cabinets, etc.) by incorporating storage space that keeps items from getting busy or cluttering up. It's a plus here to add internal components that meet your needs and play well together.
"Sliding kitchen accessories and cabinet organizers turn chaotic drawers and hard-to-reach corners into objects of beauty and efficiency," says Mushkudiani. "From sorting waste to organizing kitchen utensils, these unsung heroes will make your daily kitchen routine sing. "
Pull-out recycling bins
If you recycle regularly (that's a good thing!) It can build up, so keep your kitchen tidy and organized by storing it in a cabinet until transport day.
Spice organizers
The storage of spices becomes chaotic very easily. A drawer insert keeps tame jars in neat rows, away from your wrapped top shelves or precious counters.
Wooden knife tray
Maybe you don't like magnetic storage. It is very good; a knife tray allows you to store your knives in the cutlery drawer while preventing them from jostling.

Protect (and organize) your plates

Storing your plates together in a rack serves several purposes. They will prevent bumps and cracks, are easily transported to and from the table, and are adjustable to different sizes.

---
---
Now that you've assembled the canvas, warm up your kitchen with some personal touches. By focusing on the design details where it really matters, you can achieve a look that's both elegant and cheerful, the kind of design ethic that has made IKEA products a staple for the home.
Bold backsplash

A backsplash has so many uses in the kitchen, and why not make a statement with it? Resistant to heat, water, grease and dirt, it keeps the wall behind a kitchen counter or cooking surface clean and easy to clean. You can even create a uniform look by choosing to use the same color or pattern as your countertops.
A graphics drawer (or a few!)

IKEA brought in the Swedish design collective 10-gruppen to design different patterns for the cabinet fronts, such as black and white stripes; add one or a few to neutral cabinets to create more visual interest.
Metal pull tabs
Punchy handles are the ideal low investment, high impact addition to a kitchen. Try a clean, modern design that doesn't complicate a minimal aesthetic.
Geometric pendant
A metal pendant light that uses crystal lines will project artistic designs onto cabinets and walls. A round bulb would look great here, but you can experiment with different shapes and colors to increase the look.
---
---
There is no need to complicate a minimal kitchen look. Whether you need help visualizing what's possible or are looking for a partner to make the kitchen of your dreams come true, IKEA Kitchen Services is here to help. Make an appointment to get started.
This content is created and maintained by a third party, and uploaded to this page to help users provide their email addresses. You may be able to find more information about this and other similar content on piano.io