The decoration of the Parisian bathroom is undeniably elegant and charming. High ceilings, marble fixtures, ornate moldings, monochromatic color palettes, and herringbone parquet flooring are ultra-desirable additions to your modern bathroom.
But the Parisian bathroom decor adored by many of us doesn't require an address on the tall, grand, and sought-after second floor of a Haussmann building. This is a point proven by Parisian interior designers living on the upper and less architecturally blessed floors, including the unglamorous attic level, as well as those who dwell in boxier, more modern buildings.
And even if your address is far from the City of Light, Parisian bathroom decor can bring simple elegance and confident, timeless style to your bathroom ideas. Read on to find out the characteristics of Parisian bathroom decorating ideas and how to introduce it into your bath space.
Parisian bathroom decoration – 10 elegant schemes to inspire
Adopt the best bathroom layout ideas, modern bathroom materials, trendy bathroom color ideas and mood lighting to create a contemporary bathroom that will evoke elegance and sophistication paired with your favorite Parisian bathroom decorating ideas.
1. Invest in five-star luxury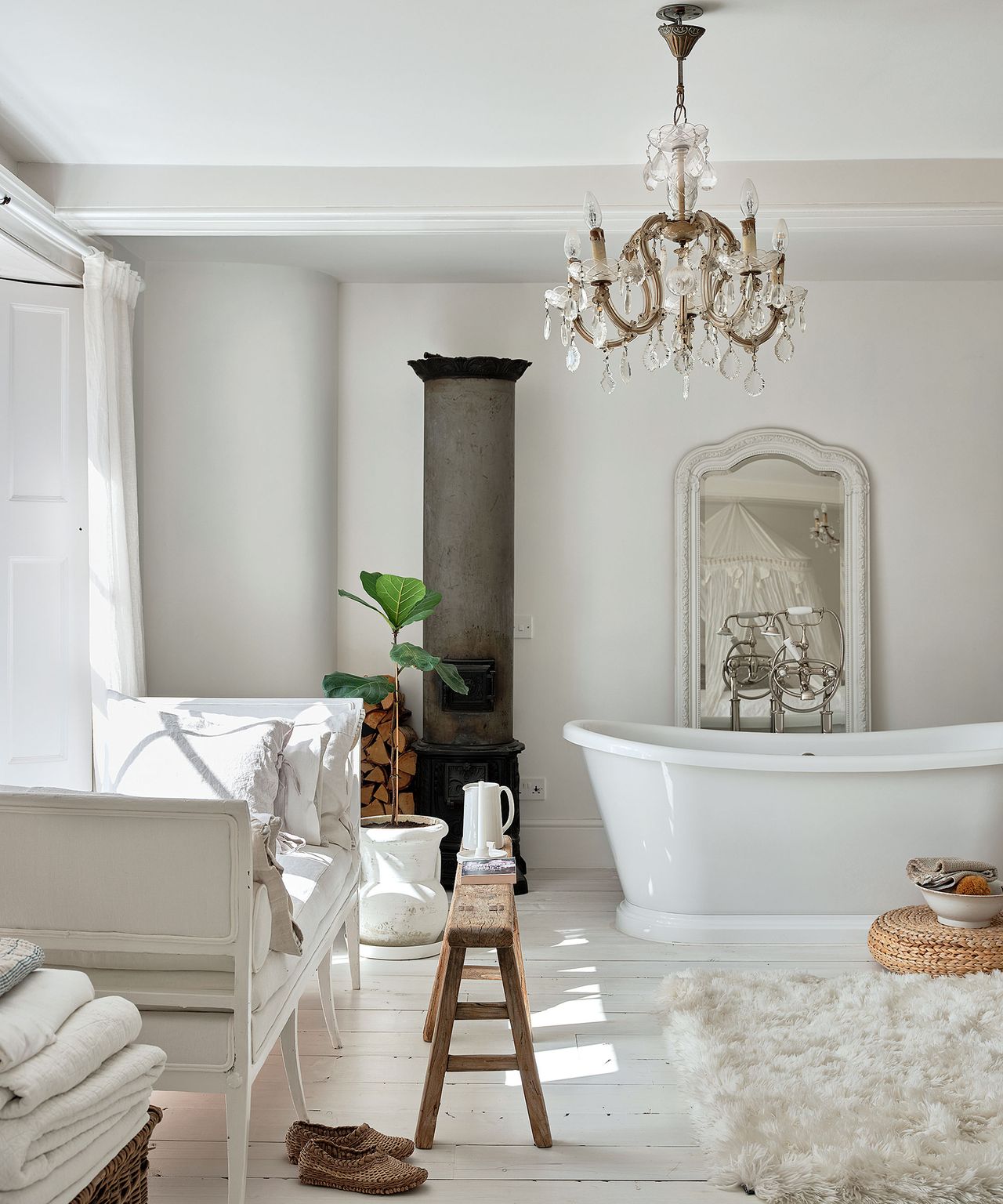 Set the stage to relax and rejuvenate in your Parisian bathroom with luxury ideas for five-star pampering. A white-on-white palette is fresh yet sophisticated and, mixed with time-worn antiques, can channel the laid-back chic of an exclusive country spa hotel.
For her own home, White & Faded founder Janet Parrella Van Den Berg layered texture – sheepskin, washed linen and old whitewashed floors – to create a strikingly white bathroom. warm and inviting. "With a white palette, it's all about how the light falls, the sun shines, and the shadows play," she explains. "The white changes throughout the day and highlights details and shapes. It makes me feel uplifted but calm.
2. Let the light in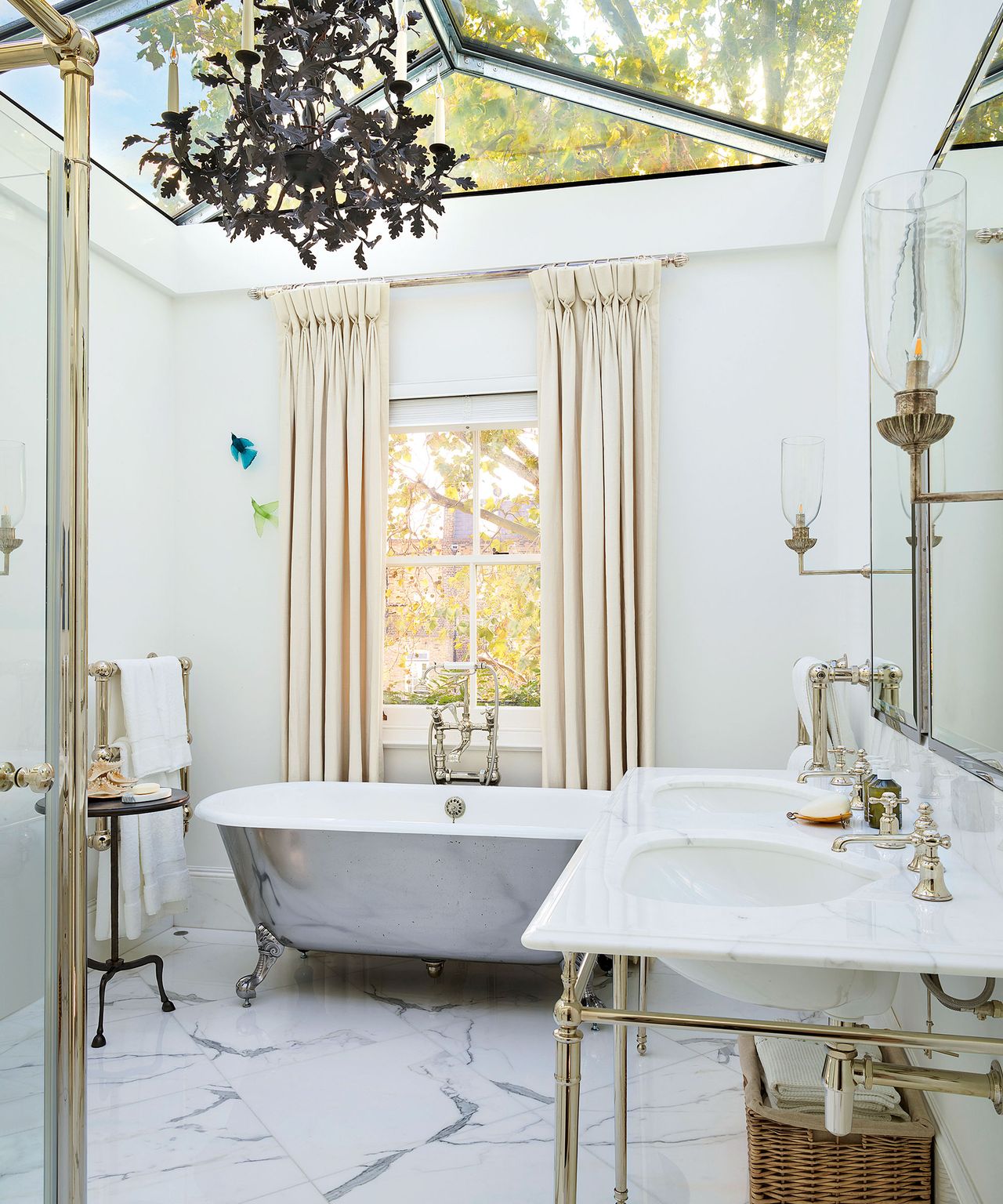 Replacing the ceiling with glass transformed the feel of interior designer Alison Henry's home. "I felt a sense of release when the glass entered and it quickly became my sanctuary," she says. "Bringing the outdoors in is central to my philosophy, and the ever-changing trees and skyscapes from above are a huge mood boost." Alison also promotes the use of mirrors. "As well as making a room feel more spacious, they also reflect light and amplify the mix of textures to make the room sing."
3. Go vintage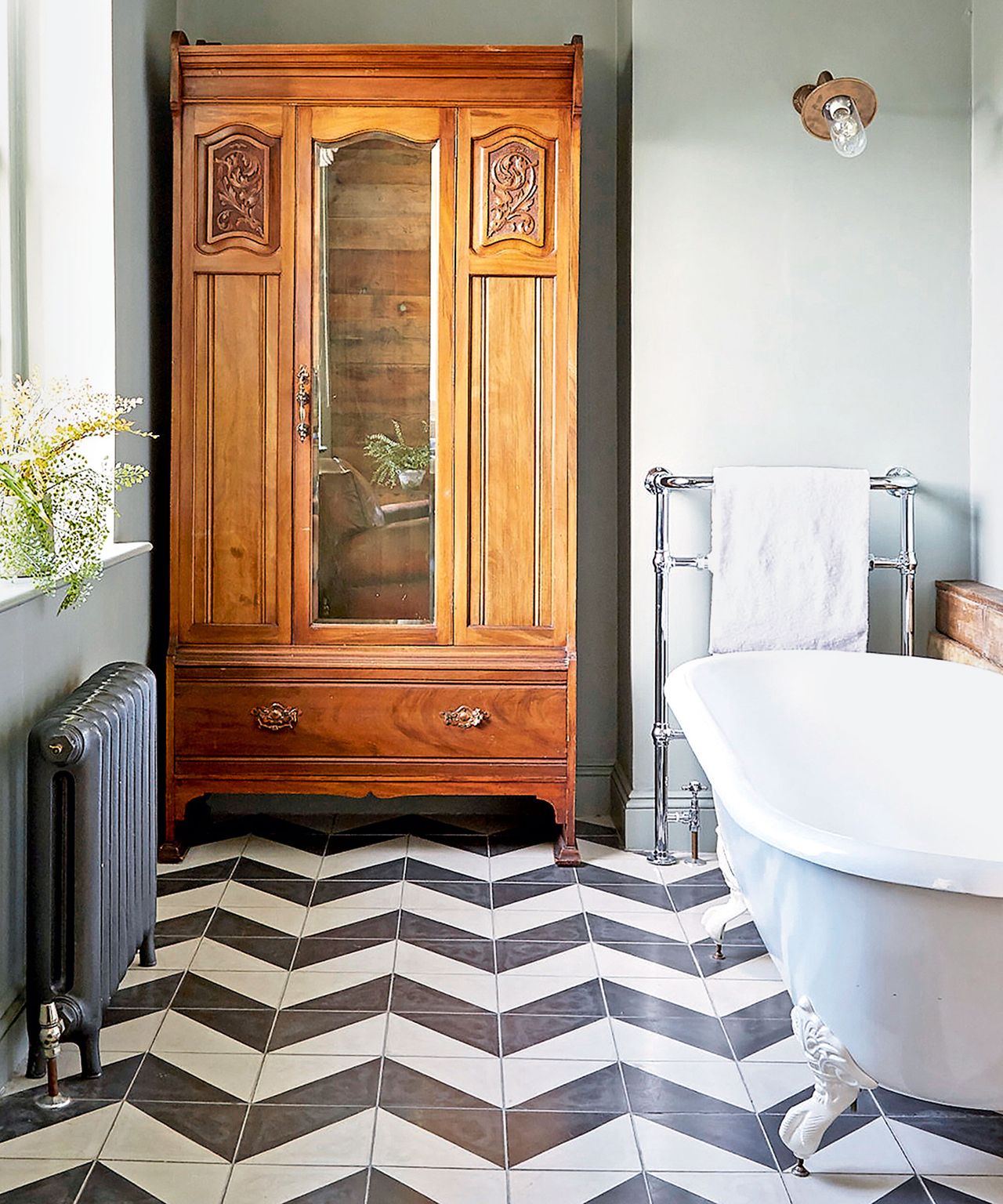 Not often associated with modern bathrooms, antique and vintage storage is worth considering for its uniqueness and ability to anchor an austere space. Choosing time-worn furniture can serve to soften the stark "newness" of cold sanitary ware and hard surfaces, as this bathroom at Artist Residence demonstrates.
Antique furniture is also often solidly made, with many years of varnish or wax ensuring your investment will survive happily for decades in a well-ventilated bathroom.
4. Invest in fascinating marble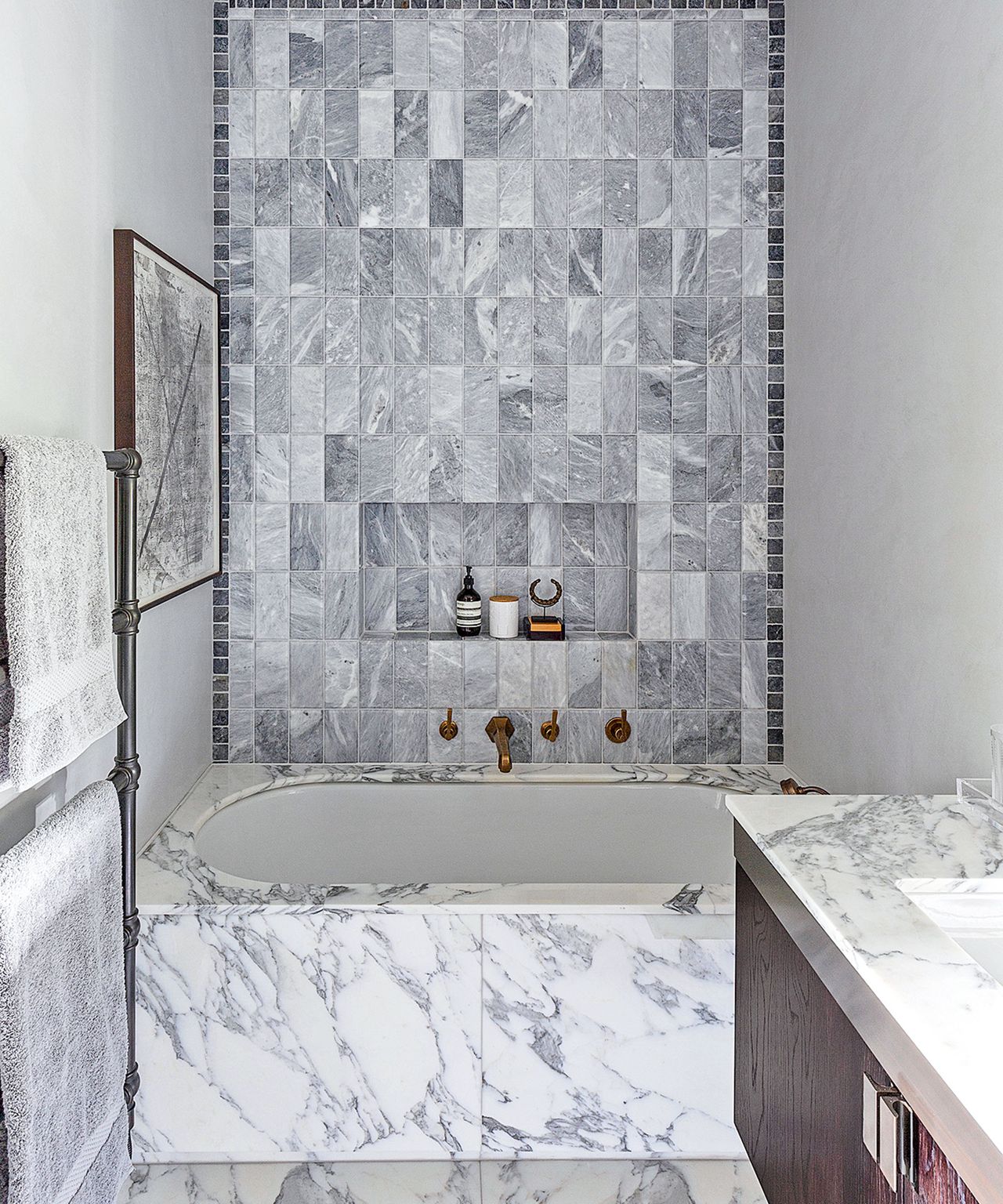 New interpretations and luxurious schemes make this metaphorical rock an enduring classic, especially in your small bathroom ideas.
Playing with shape and scale can increase the impact of marble in a small space. Here, designer Elnaz Namaki used the same large-format tiles for the floor and tub surround, visually energizing the surface. "The smaller format marble tiles share a design language, but the change of pace draws the eye inward and makes the look more memorable," she says.
5. Have it custom built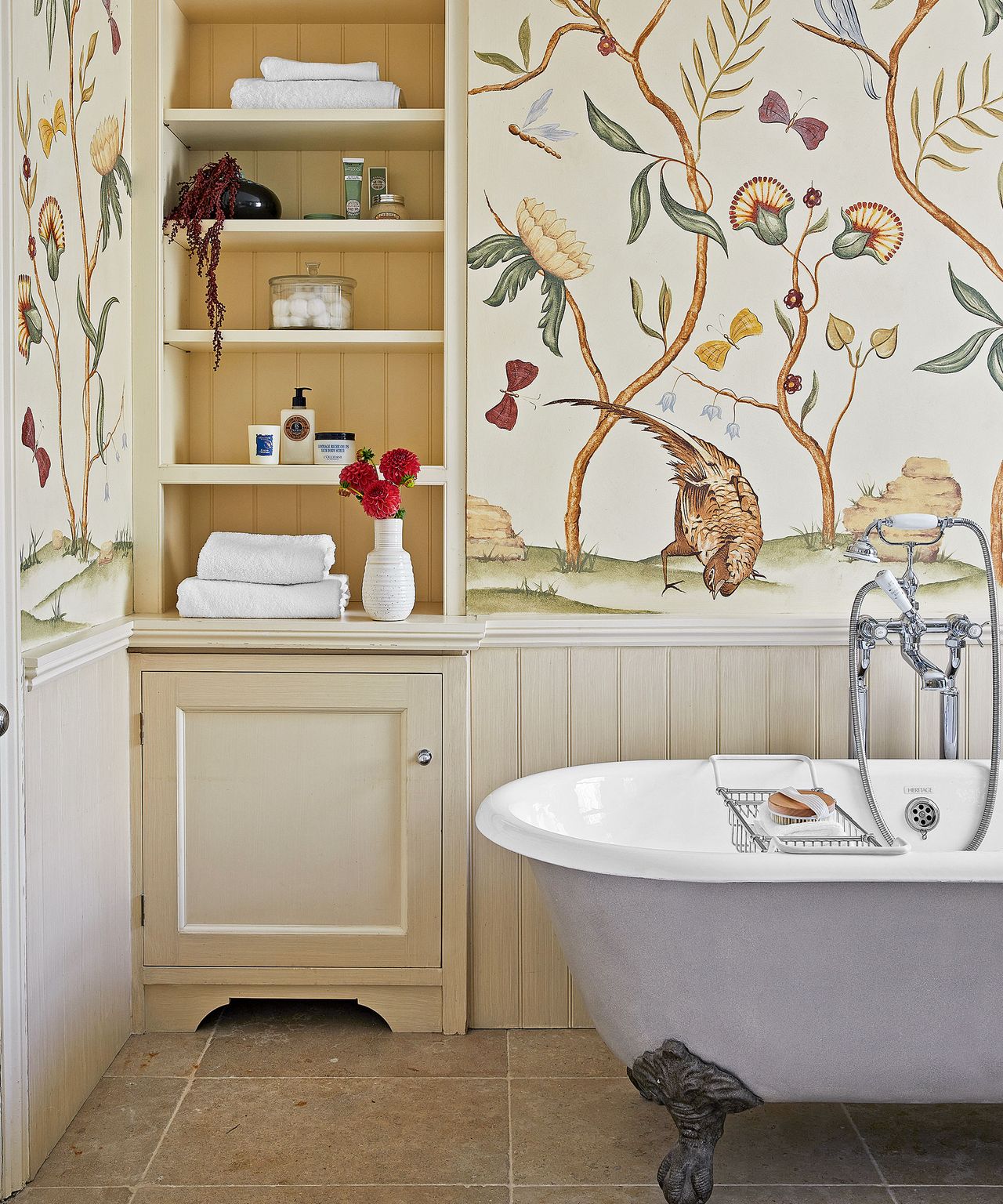 If there's one thing that Parisian designers love, it's bespoke fittings. Built-in storage is a step ahead of free-standing storage when it comes to making the most of every inch. Commissioning custom storage is especially useful if you have wobbly walls or unusual angles that simply won't fit the standard sizes of standard furniture.
Built-in storage can also improve the shape of a small bathroom; straighten difficult corners to create a cleaner, more linear space. Here, Knight Frank Interiors has used the narrowest niche for built-in storage, designed for both display and concealment. Adding cornices and an open plinth mimics the style of a freestanding piece, which can feel more relaxed and authentic in a traditional setting
6. Choose timeless fixtures and accessories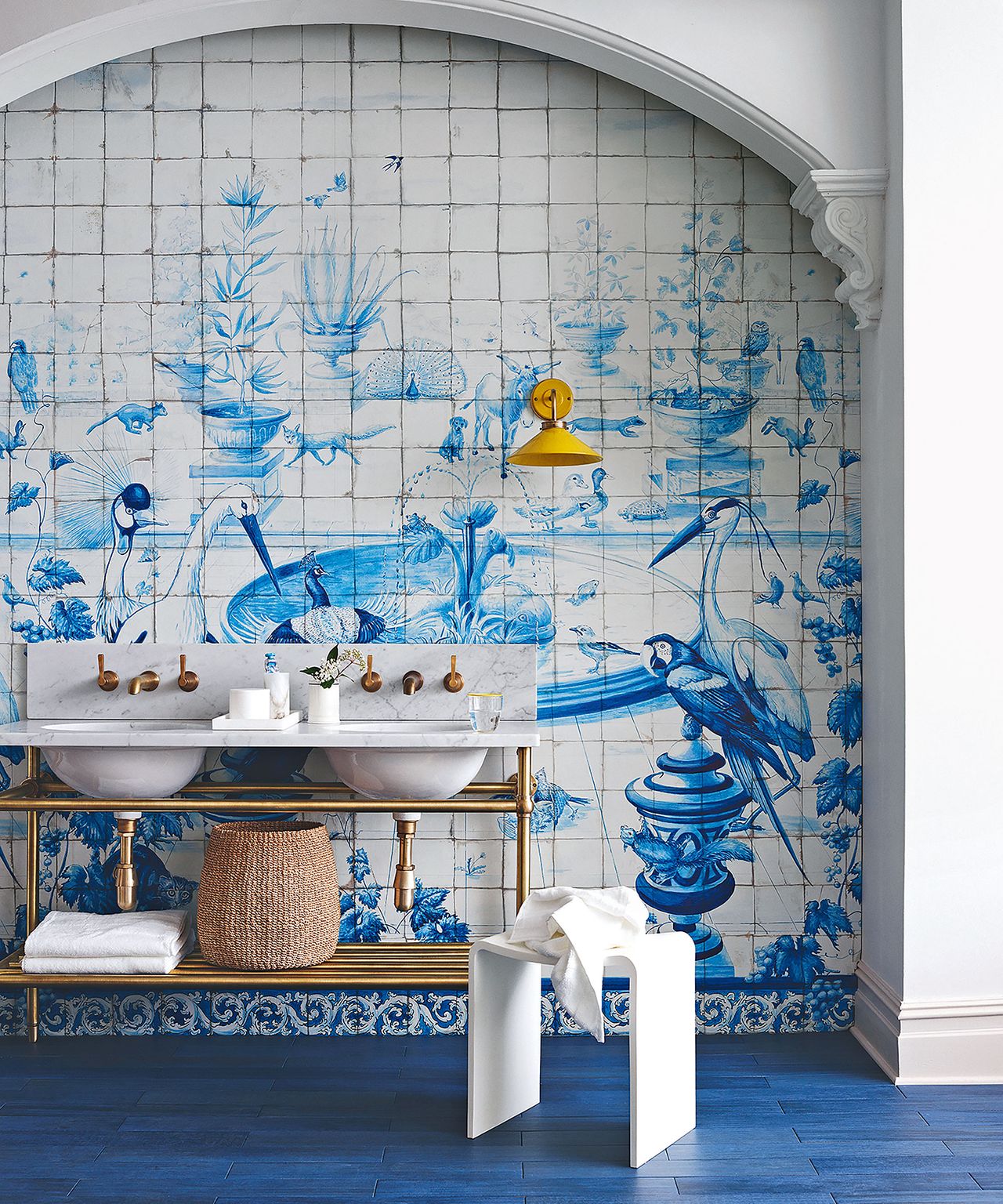 A traditional pedestal-style sink is completely timeless and perfect for showcasing a statement wall, like this tile-inspired wallpaper by Pierre Frey. Trendy antique brass adds warmth to this classic ball joint frame. Choosing a double vanity with open storage underneath makes the unit feel lighter and provides the opportunity to add personal touches and texture.
7. Decorate with restful hues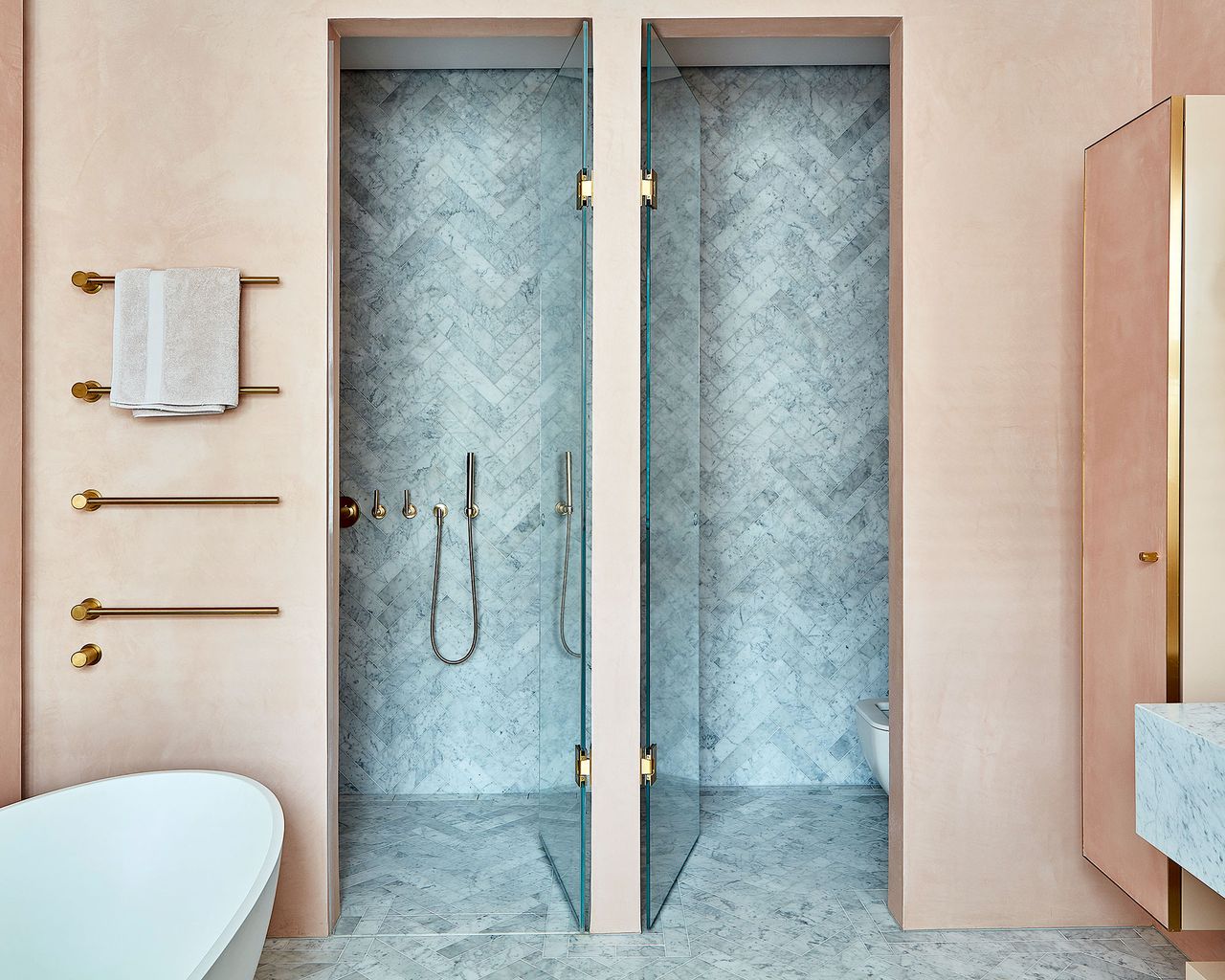 A soothing palette of dark hues ripples through this spa bathroom, bringing a spa-worthy tranquility in their wake. The cool blue-gray marble is warmed by rose-tinted tadelakt walls, with minimalist brass fittings adding a jewel-like richness. Although the material palette may be restrained, note the subtle texture provided by the tadelakt plaster and herringbone tile installation. The former is a traditional finish typically found in Moroccan hammam baths, and benefits include uniformity and resistance to moisture, making tadelakt a practical choice in the bathroom or shower room. modern.
8. Go for understated elegance with a wet room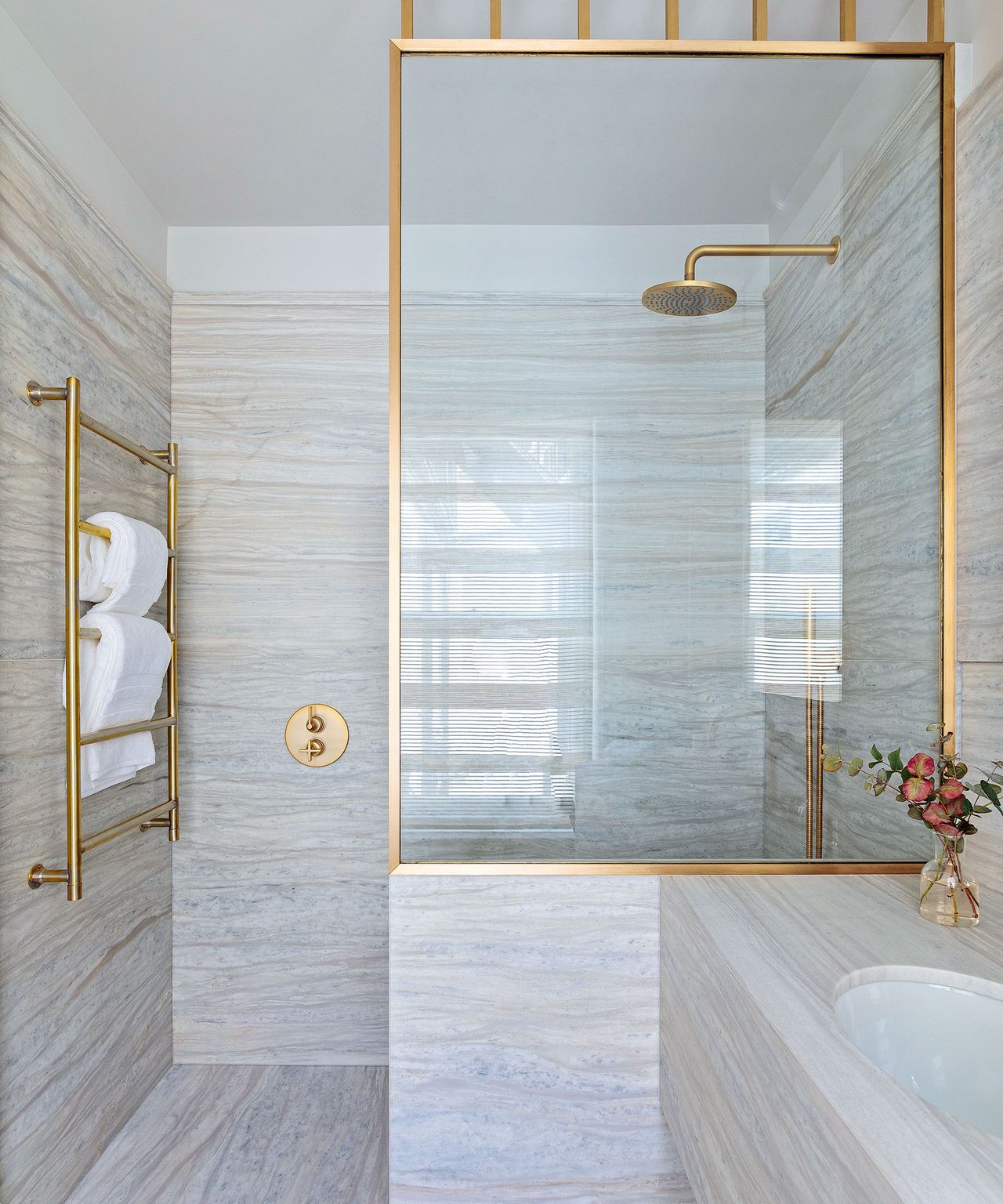 When choosing colors and materials for a wet room, less is more. Here we deliberately reduced the palette and created a clean design to really emphasize the materials," says Katie Lion, Interior Designer, Kitesgrove.
"Natural marble is an understated luxury choice that instills a sense of sophistication and calm in any wet room. Its unique veining can be a simple yet impactful way to bring interest and layers to what is often a smaller space. We chose a brass finish for all trim and fixtures to bring out the warm tones of the marble streaks, giving it a cohesive, elegant and timeless feel.
9. Mix wood and marble for a modern Parisian look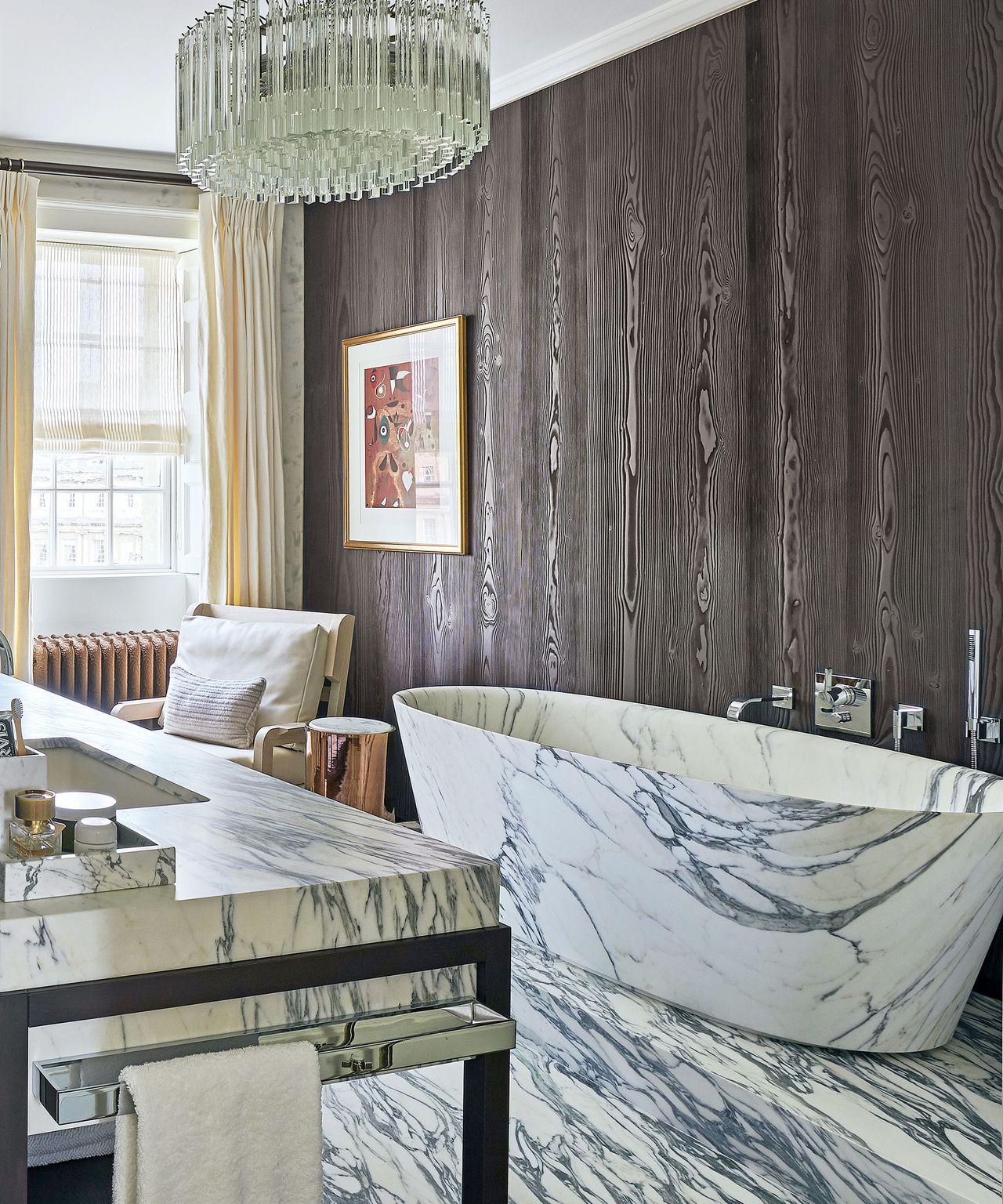 Too much stone can feel cold and sterile – and marble is no exception. In this bathroom, Fiona Barratt Interiors used wood bathroom panel ideas to introduce warmth and dampen the echo of hard surfaces. "I also like to do marble half walls with specialty plaster or other textured finishes on top. The mix of materials helps break up the monotony of stone," says founder Fiona Barratt-Campbell.
10. Emphasize the floor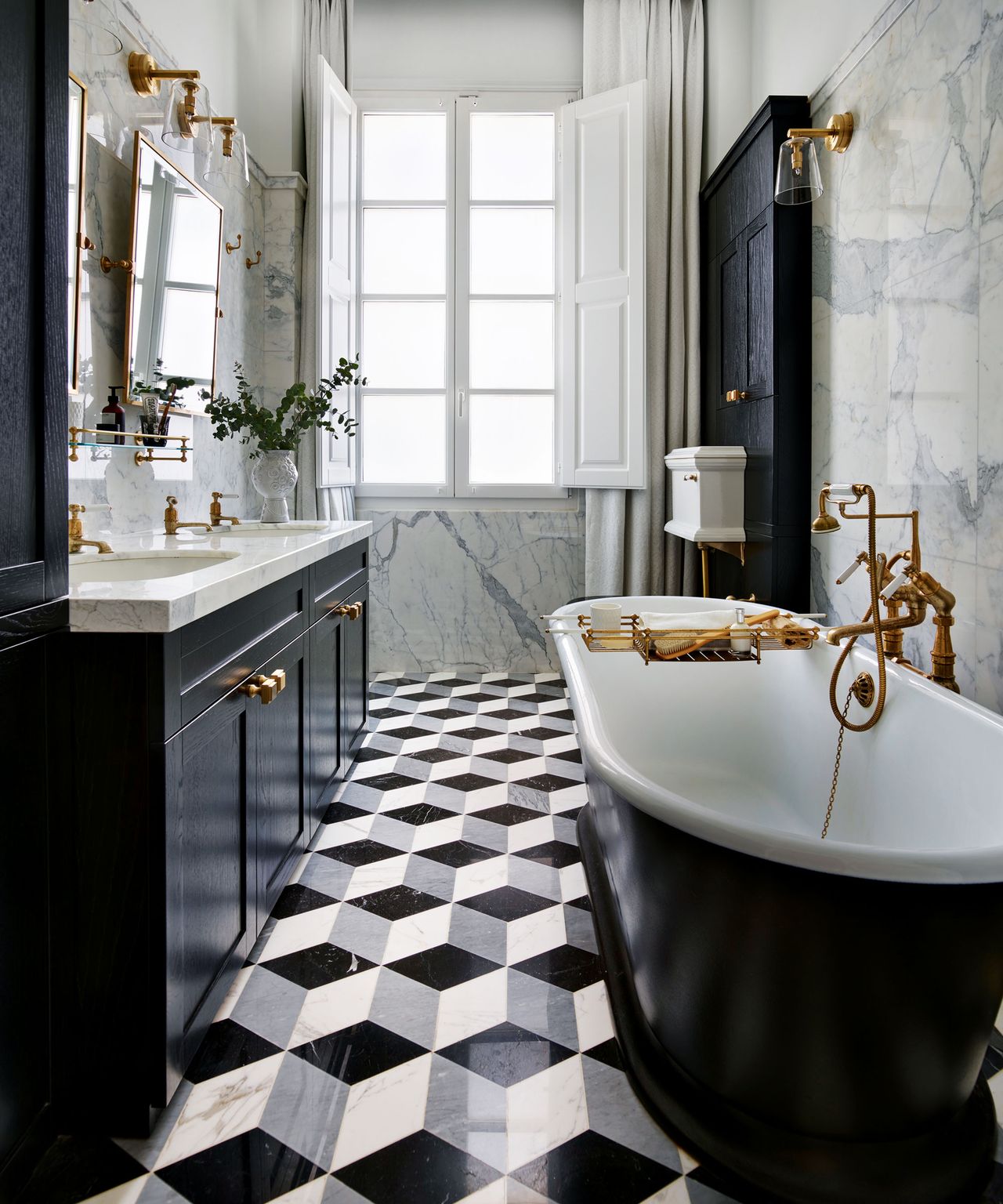 Be brave with flooring in the Parisian bathroom to create an eye-catching and unforgettable space.
3D graphic tiles are the pinnacle of contemporary design. Their unexpected use in a classic setting creates a welcome element of surprise, as Cuschieri Architects demonstrates here. "We used marble tiles to harmonize the more traditional installations, but the floor still makes a powerful statement," says architect Paul Cuschieri.
What is Parisian bathroom decor?
For the Parisian bathroom decor elements to shine, negative space is important. These interiors are airy and uncrowded, so focal points have a chance to stand out rather than compete with a bunch of other objects.
The rich details of Paris bathroom plans come from the original moldings, decorative plasterwork and ceiling medallions, geometric patterned parquet flooring and shapely pendant lighting. Luxury bathroom ideas, often ornate and large in proportion, are also typical of the look.
A white background is also key to style. Elegant elements, furniture and accessories are highlighted against clean and immaculate walls. They also reflect maximum light from tall windows, adding to the airy feel.